A passion for clean and green energy solutions and lowered carbon emissions inspired Kealeboga Tshikovhi to start Lamo Fuel in her hometown of Kuruman in the Northern Cape.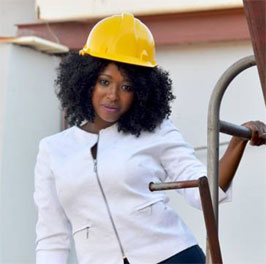 Lamo Fuel (also known as Tehilla Legacy) is a commercial bio-energy products manufacturer that produces biodiesel, bio-oil, charcoal and biogas.
Bio-energy is renewable energy produced from natural sources. In Lamo's case, locally sourced used cooking oil is used.
"I started Lamo Fuel in 2014, at a time when the call for renewable energy integration into the mainstream economy was intensified. Despite the passion that fuelled me, I stumbled upon a few challenges. The main issue was finding a viable biodiesel plant with adequate machinery," explains Tshikovhi.
In her quest to find out more about the sector, she completed a three-year business incubation programme at the Biofuels Business Incubator.
Following much hard work and saving capital from her pre-existing catering company, Tshikovhi secured a small-scale production plant in Dikgweng Village outside of Kuruman.
"I managed to start my production and acquire machinery. At present, I have a team of three that assists with admin and general work."
Funding
In 2021, Tshikovhi approached the National Youth Development Agency (NYDA) for funding to purchase more efficient equipment for her company.
"The NYDA has helped me a lot. We experienced some challenges in the production process due to our purification system. Thanks to the R50 000 grant we received from them, we were able to change the purification system and improve the quality of the product. The agency continues to give us support, including non-financial services," says Tshikovhi.
She adds that the new machinery has enabled her firm to explore the manufacturing of cleaning materials and she hopes to venture into chemicals supply.
"Our main markets are mining and construction companies operating in the Northern Cape and North West. We are currently increasing capacity from 200-litres per day to 1 000-litres per day of biodiesel."
Tshikovhi encourages young people to tackle unfamiliar business ideas.
"We have plans to encourage and promote kids in high school to choose science and technology; we will also offer mentorship and tutoring as a company. For now, we are involved in entrepreneurial forums to promote local brands and encourage people to buy local. We are hoping for more partnerships and collaborations."