Government is stepping up the gear in the provision of technologically advanced schools to ensure the cultivation of much-needed skills.
This was evident in one of three schools officially opened by President Cyril Ramaphosa in Dannhauser, KwaZulu-Natal  recently.
 Enhlanhleni Primary School was officially opened with two others, Lembe Primary and Ingweni Phaphama, in the Amajuba and Zululand District municipalities.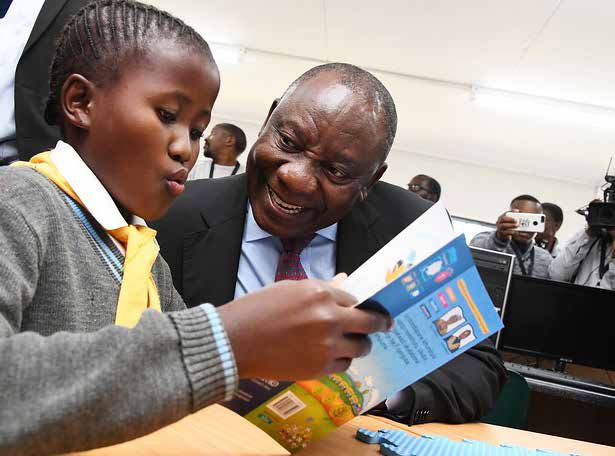 At the Enhlanhleni Primary School, President Ramaphosa was introduced to the school's technologically equipped classrooms that include smart boards and learning tablets for learners across all grades.
President Ramaphosa said the schools looked better than most he had seen in recent times.
 "We are not just focusing on the brick and mortar of putting up a school. We are talking about a school that is holistic and well equipped to develop education for our children. It is [not just] about building an infrastructure building like this; it's about building it in such a way that it is fit for purpose."
The schools are beneficiaries of the Department of Basic Education's Accelerated School Infrastructure Delivery Initiative (ASIDI), whose objective is the eradication of schools without water, sanitation and electricity.
ASIDI replaces schools constructed from inappropriate material. Adopt-A-School Foundation is the implementing agent of ASIDI.
The schools were previously mud structures built by communities. They have been replaced with modern brick and mortar structures, with additional design elements that allow for a positive learning environment. The designs comply with current and future school requirements and complement the rural environment in which they are situated.
President Ramaphosa said the three schools epitomised government's approach to building schools of the future.
"These are the type of schools that we want to see in South Africa. I am proud that we have built this school in the deep rural areas of our country. Today I've seen how IT can be one of the best things you can have in a school," the President said.   
SAnews.gov.za