Written by Silusapho Nyanda
A foot-operated sanitiser dispenser that offers something different to other dispensers was engineered and manufactured by South Africans, for South Africans.
A Gauteng entrepreneur whose communications business was failing as a result of the coronavirus disease (COVID-19) lockdown, has shown that innovation and adaptability can save the day.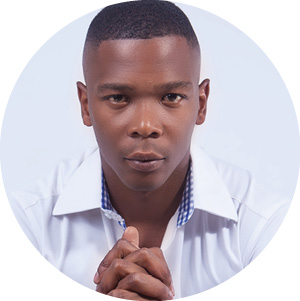 Khethi Ngwenya (29) from Germiston saw a gap in the market after realising there is a shortage of the bottles and screw caps needed to meet the rapid increase in the demand for hand sanitisers.
He invented the Geza hand sanitiser stand. Instead of a bottle of sanitiser being fitted to the unit, as is the norm with most foot-operated stands, the sanitiser is decanted straight into the stand itself.
The 960mm stand holds four litres of liquid. It can dispense between 200 and 300 sprays before needing to be refilled, making it perfect for places like schools and buildings that have a lot of foot traffic.

In addition to the stand itself, Ngwenya also sells his own Geza sanitiser, which comes in 20-litre bottles. "When the sanitiser inside the stand runs out, you can simply refill your Geza stand," he says.
In cases where sanitiser is not needed, the stand can be filled with any brand of liquid soap.
"I started the business because I saw that COVID-19 will be with us for a long time to come and that means sanitisers will be in demand for a while," he says.
Ngwenya, who is the sole owner of Geza, has outsourced the producing of the stands to a local company. "Instead of importing the stands, I created my own design and outsourced the production to a local company," he says.
The stands have helped Ngwenya create two new jobs while also keeping five employees from his old business. In the first month of the lockdown, Ngwenya says that he was only able to pay half of his staff's salaries. "This made it clear that I needed to find different streams of income. We suffered most due to outstanding payments and cancelled contracts."
Ngwenya says that in the first six weeks of operation, Geza sold 30 stands to a school and several to privately-owned businesses. Made from high-quality material that enables it to withstand wear and tear, the stands are sold pre-filled and cost R1 690. They are free-standing.
He is in the process of setting up an online store.
Ngwenya says his peers who have grown up in a democratic South Africa are the empire builders of the future. "As children of the 90s who have spent our lives in a free and democratic society, we have had access to resources.