While it's natural to feel anxious about the coronavirus, help is on hand should you need it.
The coronavirus disease (COVID-19) has had a huge impact on citizens' lives, bringing about fear and uncertainty and an increased risk of people suffering from mental health issues, such as depression and anxiety.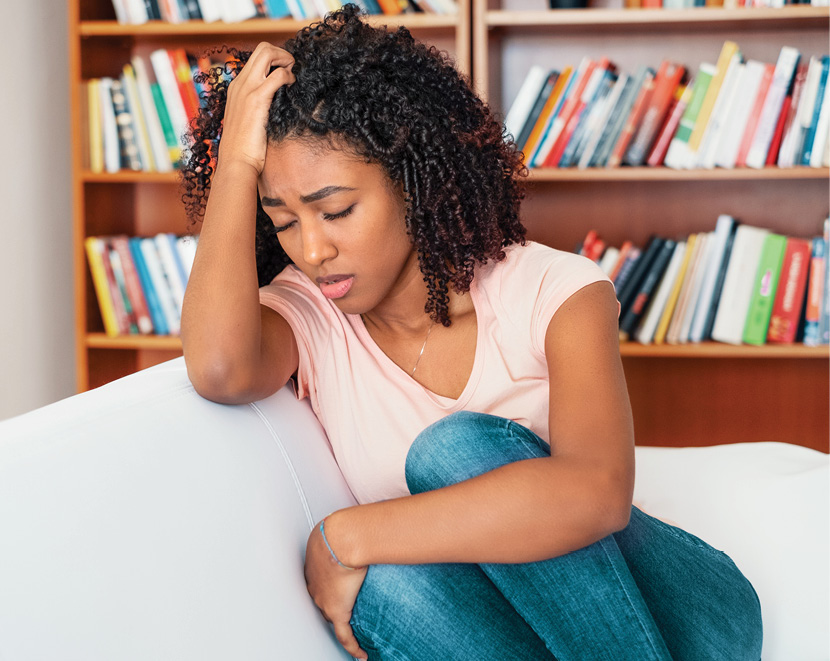 According to Dr Pevashnee Naicker, a neuropsychiatrist at the Tara Psychiatric Hospital in Johannesburg, we should all focus on taking care of our mental well-being during this time as people are under an abnormal level of stress.
A neuropsychiatrist is a psychiatrist who specialises in diagnosing and treating people who have sicknesses that affect the brain. The sickness may influence how a person behaves and their psychological well-being.
"With any change, we can expect a distress reaction from people, communities and society. And this is particularly true for this pandemic because it has caused such a big change in society," she says.
Dr Naicker explains that people are fearful that they or their loved ones will get sick and that the lockdown may be resulting in a rise in stress in the home or at work.
"Many people may be in financial distress or stuck in a home environment where they are abused. There are a number of other stresses, such as having to care for children. And, in many cases, there may be a rise in substance abuse as people use negative coping skills to try and deal with increased stress."
Find healthy ways to cope
Dr Naicker says that when people feelings of anxiety or depression, the first step they must take is to practise self-help techniques.
"You should practise healthy lifestyle behaviours, such as getting enough rest, exercising and having a healthy diet. You should also rely on your friends and family for support.
Dr Naicker adds that people should educate themselves about mental health and be aware of any symptoms that might become severe.
If things get bad, look for help.
Dr Naicker says that if your symptoms become severe, then you should seek professional help.
"If you're feeling anxious, for example, and that turns into having panic attacks, then you should seek help. The same applies if you're having negative thoughts that might turn into suicidal thoughts."
She advises people to get help through platforms such as the South African Depression and Anxiety Group's (SADAG) helpline.
"If you're still struggling, then you should make an appointment to see your doctor or a mental health professional. Public facilities are open during this time."
Advice from SADAG
SADAG has recorded an increased number of calls to its helpline from people experiencing anxiety and depression.
In an online survey, the group found that the following issues were the most commonly reported:
Anxiety and panic (55 percent).
Financial stress and pressure (46 percent).
Depression (40 percent).
Poor family relations (30 percent).
Feelings of suicide (12 percent).
Substance abuse (six percent).
SADAG clinical psychologist Dessy Tzoneva says that it is natural to feel concerned during this time.
"It's natural to feel worried and overwhelmed about our safety and wellbeing. So, if you're feeling concerned about the coronavirus, you're not alone. Yet, for some of us, this concern can quickly grow into anxiety, even panic," says Tzoneva.
SADAG offers the following tips to manage stress and anxiety:
Maintain a daily routine as much as possible.
Limit the amount of time you spend watching the news or listening to the radio. Hearing too much negative news can cause you to feel even more distressed or anxious.
Create a list of things you can do to keep busy, such as reading a book or trying out a new hobby.
Don't be afraid to speak up. If you feel like you are really struggling to cope, reach out to the SADAG, speak to friends or family or contact your therapist if you have one.
Focus on the things you can control, such as thinking positively and keeping busy.
Take the necessary steps to protect yourself from the coronavirus.  
*If you or a loved one is struggling with mental health concerns, reach out to the SADAG for free telephonic counselling. Call 0800 21 22 23, 0800 70 80 90 or 0800 456 789.