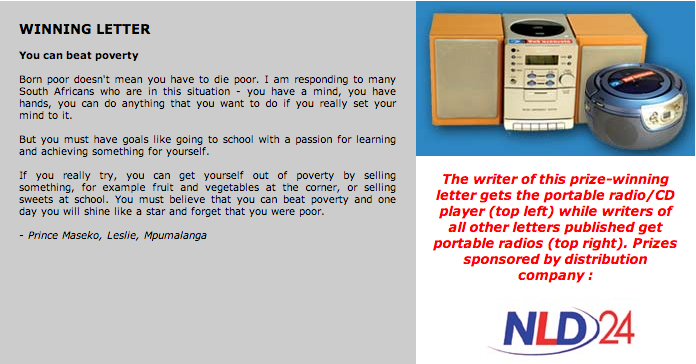 Don't lose your dreams 
I am a 16-year old teenager and I have a dream that keeps me clean and away from drugs. It is my dream of becoming an engineer one day. The drug market in South Africa is growing every day - young people turn to drugs for comfort, but drugs only add to their problems! I don't judge people who use drugs, because I don't know what they are going through. We are all born neither good nor bad, it's just that some of us have lost our way and our dreams. 
- Kgally Mashaba, Kuruman, Northern Cape
---
Stigma of HIV and Aids 
I am taking anti-retrovirals and I don't mind my name being published. I am leading a healthy life. The government's in-tentions are good, but they still perpetuate the stigma of HIV and Aids. Why do they treat this disease on its own platform and not the same as any other life-threatening disease? Clinics and VCT centres are clearly marked and this in itself amounts to some sort of disclosure. If you walk into their waiting rooms you are met by scared, miserable and paranoid people. Nurses and lay councillors treat patients as though the virus has somehow affected them mentally. Do not make HIV and Aids stand alone. This makes people resent and abhor being identified. Some people would rather die in isolation without help and support instead of being identified as being HIV positive 
- Rathabeng Elias Mamabolo, Sovenga, Limpopo
---
Talk about your status 
I am a 28-year old mother living with HIV. When I found out I was HIV positive, I was scared and I thought my life was over. I read in Vuk'uzenzele about HIV and Aids and how to live with the virus. I thank Vuk'uzenzele for giving me the strength to talk to my family and friends about my status. I am not scared anymore because they accept me as I am. All young mothers out there must take this disease very seriously. Please don't be shy to get tested before you fall pregnant. Know your status. I know it is not easy, but you must talk to people who can help you. 
- BDG, Rustenburg, PO Box 447, Rustenburg, North West
---
Ignorance is killing us 
It is sad and painful to see young people doomed to death by HIV and Aids due to ignorance. Our loved ones and friends die almost every day and we pretend that we know nothing about the disease.
Now is the time to learn from their mistakes and move forward positively and sensibly. We have to realise the position we are in because we are the leaders of tomorrow and the future is ours. 
- Harmans Pholo, Allanridge, Free State
---
Taking responsibility 
Our government can only make sure that there are free condoms available for the sexually active public, but cannot force anyone to wear them. The same applies to the dangers of drinking and driving. We have to take responsibility! We must meet government half-way by ensuring that a five-year old boy doesn't lose his father because of drunk driving or a mother doesn't lose her son or only daughter to Aids because they had sex without protection. It is as much our responsibility to listen as it is government's to do the talking. 
- Mbulelo Samuel Zito, Somerset East, Eastern Cape
---
Believe in yourself 
I am a teenager and I believe if others can get up and do it for themselves, so can I. I'd like to say to everyone: Be the best that you can be. Be proud of your achievements no matter how small they may seem. Dream about success and work hard to make your dreams come true. Don't waste your life - don't look back when you are old and think about all the things you could have been if you had tried harder, try now. Believe that if you want something you can make it happen. Let Vuk'uzenzele magazine make you get up and smell the fresh air to a bright future. 
- Pinky Ndaba, Greytown, KwaZulu-Natal
---
Thank you 
Thank you very much for educating us. I am an ABET practitioner and I have used copies of Vuk'uzenzele the whole of last year. They provided information for many subjects. The topics that helped for exams were the national symbols and the national orders, to mention just a few. You made my day when you wrote about the powers of Parliament. I wish everyone will read it and stop blaming the President for everything that happens in Parliament. Keep it up! 
- Tepo Kopa, Marquard, Free State