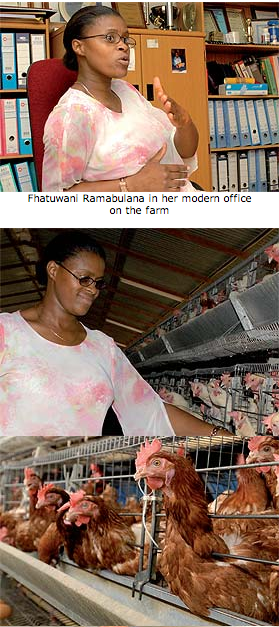 Men seem to like to give orders, while women prefer getting the job done themselves. This is one of the reasons why women are successful farmers, says Fhatuwani Ramabulana, the youngest female farmer and one of the most successful farmers in Limpopo.
Ramabulana, a well-known farmer in Venda, says farming is very tough and needs people who do a hands-on job instead of giving
orders from a distance. 
Woman of the Year 
Still in her early 30s, Ramabulana won the Shoprite Checkers Woman of the Year Award in 2002. She is a trained teacher, but has never worked as a teacher. Instead, she runs a big poultry farm selling eggs and chickens in Khumbe village. 
Big responsibility 
After completing her teaching diploma in 1998, she joined her parents' business, Khumbe Poultry Farm, as a secretary. The following year her father died in a car accident and Ramabulana took over as manager.
She said it was a big responsibility especially because she was very young. But she had to tackle the challenges that came her way.
"Thinking of how my father started, I knew I couldn't allow the business to go down. He taught me a lot, like working with clients and marketing the business."
Ramabulana's father started in the early 1980s in Tshakhuma selling chickens from a mud hut. In 1985, he bought some land in Khumbe and employed three workers. The business grew and became very successful. He has since won several awards.
When he died, the business's turnover was about R4 million per year. Today, Ramabulana is the general manager, her mother is the director and her sister and two brothers are managers responsible for other operations.
The business now has branches in Elim and Makhado. The turnover is about R7 million per year and they employ 50 full-time workers. "We have 46 390 chickens and sell about 248 500 eggs per week," Ramabulana said . "The demand is very high and we keep growing. We sell our eggs to wholesalers throughout the province and to grocery stores and the community."
The business has also put some-thing back into the community by sponsoring two local soccer teams and helping poor children with school fees and uniforms.
- Ndivhuwo Khangale