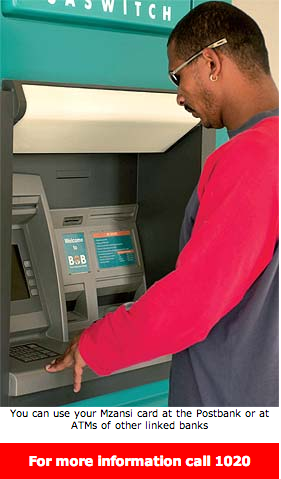 MAKING OPPORTUNITIES WORK FOR YOU
Gone are the days when a bank account was only for those who earn a salary or have a lot of money.
Now, all you need is a valid South African identity document and at least R10 in your pocket to open a Mzansi bank account. Mzansi was started to make banking easy for the more than 13 million people who have never used a bank before. It is also a way of making banking more affordable for people who earn small salaries. 
Different banks 
The Banking Association of South Africa (BASA) started Mzansi in October 2005. They invited all the major banks in South Africa to take part in the project.
Four banks, namely Standard Bank, ABSA, Nedcor and First National Bank, as well as Postbank, a division of the South African Post Office, acted on BASA's call. Government also supported the plan and came up with ways on how the bank could be best used.
An agreement was signed to make co-operation between the government and the banks easy. 
Free 
You can open a Mzansi bank account free of charge at the Postbank and other participating banks. To do this you must deposit at least R10 and show your ID document. There is no minimum balance fee to keep the account working.
When you have opened your account, you will get a bank card that you can use at the Postbank or at the ATMs of the other participating banks. No additional cost is charged for using those ATMs. 
Reduces fees 
Except for the free monthly service given by all the participating banks, the different banks have their own pricing for other business
deals. For example, the Postbank does not charge a fee for opening an account, depositing money, statements and balance inquiries.
For more information about fees at other banks, you should talk to the bank where you opened your account.
Once the balance in your account reaches R25 000, your account is switched from Mzansi to a normal bank account.
Since Mzansi started, Postbank has opened more than 1,38 million accounts.
- Ndivhuwo Khangale