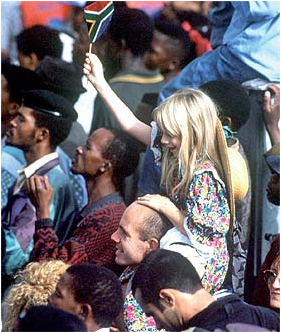 South Africans should work together no matter what political parties they belong to. They should get to know each other better and have more discussions about common goals no matter what language they speak.
This was the message from President Thabo Mbeki following discussions about his State of the Nation Address.
After President Thabo Mbeki delivered his State of the Nation Address, he listened to political party leaders in the National Assembly as they debated what he said in his speech on February 15.
Deepen the debate 
The President said he was touched by the discussions which were mostly in line with Parliament's: wish to deepen the debate in South Africa.
Mbeki spoke of the need to develop "a sufficient national cohesion
enabling all of us to speak in a common vocabulary that we share, whatever language we use."
By "national cohesion" the President was talking about the need for all South Africans to work together, know each other better, discuss common goals and speak with one voice.
The President noted the words by Pieter Mulder of the Freedom Front Plus when he said: "We do not know each other and do not debate with each other." He said the two-minute speeches in Parliament were not debates.
Mbeki also spoke about the words of Bantu Holomisa of the United Democratic Movement who said: "We as South Africans have not yet found each other on a number of issues." 
Listen to each other 
Mbeki added that he took very seriously words by the Democratic Alliance leader Tony Leon when he said that as a nation we should spend more time listening to each other.
We should not be too quick to judge the concerns and expressions of other groups of the population, Leon said.
The President also took note of the words by Naledi Pandor, the Minister of Education. She said: "We must today renew our promise to speak together of freedom, to work together to build a South Africa with one dream."
Mbeki said if South Africans did not know each other, they could not develop a common knowledge about problems or have common goals.
- Ndivhuwo Khangale