Mduduzi Jijana is the owner of the Disability Empowerment Movement, which is one of the companies that is currently benefiting from the R26 billion upgrade of the N3 highway between Pietermaritzburg and Durban in KwaZulu-Natal.
The project, which is being spearheaded by the South African National Roads Agency SOC Limited (Sanral), is ensuring that entrepreneurs such as Jijana not only benefit but in turn create employment for others.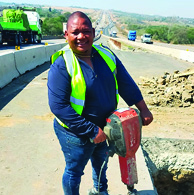 Jijana, who lives with a disability, says his company installs road signs between Hilton and Pietermaritzburg. 
He employs 13 people and says the project has changed their lives. "As people living with a disability, we have shown that we are capable. We no longer rely on grants. We do the actual work," says Jijana. 
Sanral N3 Programme Manager Tsepo Matekane says his company ensured that 30% of the work was assigned to local companies with the ability to provide various services. This created many opportunities for small businesses owned by youth, previously disadvantaged people and women.
"There are 108 small, medium and micro enterprises currently working on the various projects," he says.
Nokuthula Zondi of Ingqalabutho Yamalinda Multipurpose Trading was awarded a contract to supply soil and install water drainage pipes.
She says her company employed eight skilled workers, including drivers. Zondi adds that women are as capable as men and her company has a good service track record.
"We understand the importance of time and meet all our targets to ensure the project runs accordingly. We appreciate the opportunity and we hope more will come so that our company can grow according to construction levels," she adds.
National government's key projects
Matekane says the Durban-Free State-Gauteng Logistics and Industrial Corridor development has an estimated budget of R26 billion and is one of national government's key strategic integrated projects. It is known as SIP2.
The project will widen the N3 with more lanes in each direction. It also includes changing some of the major interchanges to improve traffic flow.
The affected section of the N3 has over the years experienced traffic congestion, particularly during peak hours because the majority of cargo trucks from the Durban harbour use the highway to Gauteng and other inland provinces. Some of the cargo truck drivers have caused accidents by not taking care on sharp curves.
"Apart from resolving chronic traffic by creating greater mobility through the construction of additional traffic lanes, the upgrading of the N3 will result in increased safety. Dangerous curves will be ironed out. Unsafe intersections will be redesigned," Maketane says.
Sanral awarded three contracts in the last quarter of 2021, and construction work began between January and April. The sections currently being upgraded are the 19 kilometre (km) stretch from Cato Ridge to Dardanelles, commonly known as Umlaas Road; the 26.6 km section from the Dardanelles Interchange to Lynnfield Park; and the 30 km stretch from Lynnfield Park to the Ashburton Interchange.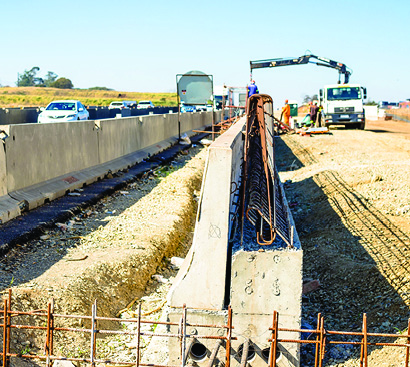 Matekane explains that SIP2 will strengthen the logistics and transport corridor between South Africa's main industrial hubs, improve access to Durban's export and import facilities and raise efficiency along the corridor. 
He adds that the project is part of the National Development Plan 2030 and National Transport Master Plan 2050 and supports government's Economic Reconstruction and Recovery Plan.
To this end, government intends to develop a transport system that is consistent with the real needs of the people living in South Africa and caters for people with less money to spend on travel.
Maketane says the upgrades will take between eight and 10 years to complete and road closures will be kept to the minimum. He adds that motorists will be kept informed of traffic delays and the KwaZulu-Natal traffic authorities will help maintain traffic control.
Sanral appeals to motorists to heed all warning signs, reduce their speed when approaching a construction site and to have consideration for other road users.
Fun fact
Transport Month is commemorated in October. This month, the Department of Transport and its entities, such as Sanral, will highlight their projects and programmes in the areas of aviation, maritime, public transportation and roads.