Written by Kgaogelo Letsebe
A sudden retrenchment in 2020 inspired Mathabo Ntshiqa (33) to start a laundrette that services the community of Langa in Cape Town.
ULibo Laundry Services, says Ntshiqa, was established at the height of the COVID-19 pandemic after she lost her job in the hospitality industry. She says she applied for other jobs but because she had always wanted to open her own businesses, she also looked for entrepreneurial opportunities.
She realised that the pandemic had placed immense pressure on parents because they had to cope with working remotely, helping home school their children and running their households.
Knowing how much time it takes to do laundry, she decided to open a laundrette in the hope that these overburdened parents would become her clients.
With the little savings that she had, Ntshiqa bought second-hand machinery and started operating from a rented shop at the Shoprite Centre in Langa. Although the first few months of operation were tough, she managed to keep the business alive.
"I started from nothing, with no back-up funds and no back-up options," she says.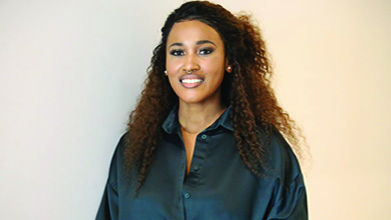 Another challenge was the lack of a business hub in the area, she says, which meant that there was little support for start-up businesses.
Ntshiqa overcame these challenges by reaching out to the National Youth Development Agency (NYDA) for a business grant and business management training. She applied through the agency's online application system in March 2021 and was given a R42 000 business grant in July 2022.
"The NYDA has made it easier for us to apply as it has now an online application system. This means we don't have to travel to town. I requested the account registration link and it was emailed to me. I then created an account and did a screening test."
Following her successful application, she purchased machinery, detergents, a scale and a packaging sealer.
Ntshiqa says the service industry is a good fit for young people because it offers business opportunities that do not require much start-up money. Entrepreneurs can usually work from a garage or Wendy house.
For more information on the NYDA, visit their website at http://www.nyda.gov.za/ or contact them on 087 158 6345/5738. Alternatively, you can send an email to info@nyda.gov.za