As part of efforts to remove barriers that prevent persons in the deaf community from communicating effectively, the country has developed the first bilingual South African Sign Language (SASL) Dictionary.
The bilingual English/ SASL video dictionary is available as an app on smartphones to provide standardised SASL terminology. Users can search for words by handshape and body location. The signs were collected from deaf communities across South Africa.

"This will close [the] communication gap drastically, which affect many facets of a deaf person's life, including education [and the] limited ability to be understood by most of the South African population," Minister of Sport, Arts and Culture Nathi Mthethwa said.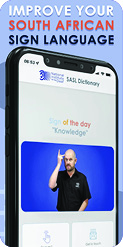 In his address at the launch of the dictionary in Cape Town, the Minister said it would further enhance the curriculum for learning SASL and strengthen cognitive function and communication skills.
As part of continued efforts to develop SASL, the Pan South African Language Board (PanSALB) has been working closely with the National Institute for the Deaf (NID) to standardise and authenticate the
dictionary.
The NID is a registered non-profit organisation which has conducted extensive research in SASL and develops content targeted at the deaf and hearing communities to bridge the communication gap that exists between the two.
The dictionary, which was developed by the NID, contains 3 000 signs and 2 500 English words which will facilitate teaching and learning between the two languages.
"This launch of the first edition dictionary will discourage disjointed language, where each fragment had its own accents in the gestures signed, which affect the language. This dictionary will further unify the deaf community as a fundamental tool for language learning, allowing the learner to look up unfamiliar words," the Minister said.
NID Chief Executive Officer Cobus van Deventer said the organisation believes in shifting the focus off the disability and onto the barriers, which prevent the persons living with the disability from reaching their full potential.
"A well-researched SASL video dictionary is an important step in affording SASL the status of an official language in South Africa. This status will go a long way in making it possible for persons relying on SASL for their primary communication to access services and opportunities that will enhance their participation in life.
"We are sincerely grateful to PanSALB for authenticating this SASL video dictionary and driving the development and recognition of SASL as an official language," van Deventer said.
For more information about the dictionary, visit: https://www.learnsasl.com/#/.