The Department of Home Affairs has opened four new Zimbabwe Special Permit Centres to allow Zimbabwean nationals living in South Africa to apply for special permits.
These centres are in Midrand (Gauteng), Cape Town, (Western Cape), Polokwane (Limpopo) and Durban (Kwazulu-Natal).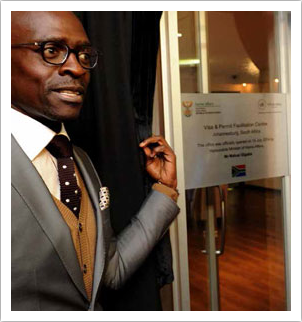 In 2010, government implemented the Zimbabwean Dispensation Project (ZDP), which was aimed at regulating the stay of undocumented Zimbabwean nationals living in South Africa.
At the time, Zimbabwean nationals were offered free temporary work and study permits, issued for up to four years, if they applied with a valid Zimbabwean passport and a letter from their employer in South Africa.
The permits issued under the ZDP are now expiring and Zimbabwean nationals will have to apply for the new Zimbabwe Special Permit (ZSP).
The ZSP allows Zimbabwean nationals to stay in the country until December 2017, after which will have to go back to Zimbabwe to apply for a relevant visa to stay in South Africa.
Minister of Home Affairs Malusi Gigaba says government is ready to process the multitudes of applicants who are likely to go the 10 processing centres across the country.
"The department is ready. We, along with our application processing partner VFS, have completed all the necessary preparations to process all prospective applications for the ZSP. All the 10 ZSP application centres have been secured by VFS."
The remaining six centres are in George, Port Elizabeth, Kimberley, Bloemfontein, Nelspruit and Rustenburg.
He added that there was sufficient capacity to deal with the application process.
"Capacity has been set aside within our permitting section to be able to process the applications. Currently there are 120 dedicated staff members who will be dealing with ZSP adjudication."
The application fee for the permit is R870. "In line with the 'user pays' principle, and like the vast majority of countries, we charge applicants for visas and permits for the cost of administering them.
"We believe this fee is reasonable, when compared with visas and permits of similar duration," said Minister Gigaba.
For more information, call the Department of Home Affairs on 012 425 3000 or email: 

info.dhasa@vfshelpline.com