Protecting the rights of people with disabilities
November is a month in which our nation focuses its attention on close to three million South Africans whose status and wellbeing in our society tell us how humane we are as a people and how we are doing in achieving equality for all.
Some of the people to whom I refer are visual artists and musicians; some are engineers, others, chief executives of major companies or owners of small businesses; some are international sports stars and others, while others are teachers, doctors and members of national, provincial or local government.
But, some of these South Africans can also be seen outside shops or at traffic intersections begging or scrounging around for scraps of food, clothes or ways to keep warm. Others are locked up in their homes by family or friends, while others are physically and emotionally abused because they have little or no way to defend themselves.
I speak here of South Africans with disabilities. Census 2011 put the number of South Africans with disabilities at at least 2,8 million (or 7,5% of our population at that time), excluding children under the age of five or persons with psychosocial and certain neurological disabilities.
During our 20 Years of Freedom, November has been adopted as a month during which government intensifies the promotion of the rights of people with disabilities and during which we challenge all South Africans to think of the work we still need to do to create a better life for people with disabilities.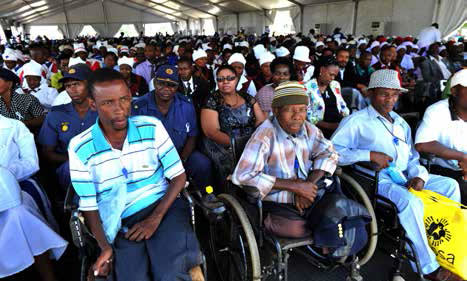 People with disabilities face unique challenges in their own lives in communities but with the necessary material and social support – and adherence to our Constitution's insistence on equality for all – they can be empowered to contribute to and lead our society.
We can as South Africans pride ourselves on the progress we have seen in the lives of people with disabilities, from all social backgrounds, since the inception of our rights-based democracy.
South Africa is proud to be a signatory to the United Nations Convention on the Rights of Persons with Disabilities, an international agreement that says governments must promote and protect the rights of persons with disabilities.
Our commitment goes beyond our signature on this international treaty. Our commitment can be seen in government's provision of disability grants, or our provision of learning facilities for children and adults with special educational needs.
Our commitment can be seen in the targets we have within government for employing people with disabilities, or the infrastructure and services our country has developed for people with disability.
These include features such as wheelchair ramps at public buildings, buses that "kneel", free cataract removal for citizens across our country who depend on the public health system for such services, and the provision of assistive devices such as spectacles or hearing aids.
It is against this background that, earlier this year, I declared 2014/15 as the Year of People with Disabilities under the theme "Protecting and Promoting the human rights of people with disabilities": Towards full participation and inclusion".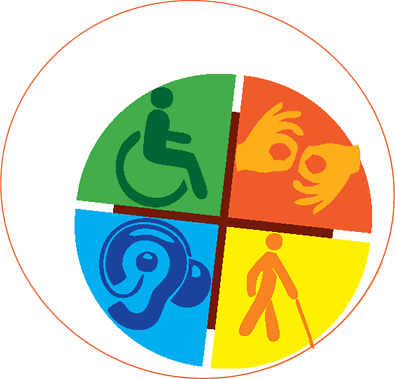 November is therefore a month in which we celebrate the contribution of people with disabilities to our society and in which we reevaluate the support we provide to people with disabilities.
For some South Africans, this should also be a month where we frown on any form of discrimination against or disadvantaging people with disabilities and do all of us a disservice and injustice in the process.
This is also a month in which we commemorate 16 Days of Activism for No Violence Against Women and Children as part of government's broader campaign to support vulnerable groups and individuals.
The 16 Days campaign, which is part of an international focus on violence and abuse, allows us to focus for a few weeks on a task all of us need to perform 365 days a year, and that is to protect vulnerable people in our communities.
Indeed, the violence and abuse we experience in our society is one of the contributors to the prevalence of disability in our communities. When people are hurt or maimed in the course of such abuse, this creates trauma in the individual and those close to her or him.
It undermines (even if this is just temporarily) their ability to be confident, productive members of our communities and it diverts our energies and funds to situations we should be living without.
Year after year, when we see our national crime statistics, the numbers tell us that most of our serious violent crimes happen in situations where perpetrators and victims know one another.
People's failure or inability to relate to each other decently, or recklessness in the use of alcohol, and some men's attitudes towards women as "property" that "belong" to such men, are among some of the factors in our  society that lead to tragedy, trauma, disfigurement, loss of earnings and increased insurance premiums in our communities.
This is not how we should be living as South Africans, and we should all become part of the national movement for a better life.
We are blessed as a nation with individuals and organisations in all parts of our country and across all sectors who want to make South Africa an even better place in which to live.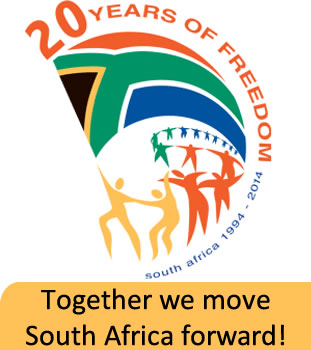 And so, November is also a month in which we celebrate and welcome the partnerships that are in place between government and its social partners to promote and defend the rights of vulnerable South Africans.
Government appreciates the work being done by thousands of community-based organisations to support vulnerable members of our communities. This work is not just about raising funds and providing facilities, but this work goes to heart of our values as South Africans.
This work challenges us to ask who we are as a people, what good we can perform for each other in the spirit of Ubuntu and how we are reaching out to those who need our support the most.
So, this is work that starts in our beliefs, values, thoughts and actions as individuals. It is only when we are (or at least try to be) the best we can be, that our families, communities and country at large will change for the better.
It is my hope that November 2014 can be a new beginning for millions of South Africans; that it will be a time when all of us will think not just of the campaign of the month, but the campaign of our lives: a personal campaign to make a positive contribution to society.
A year from now, we should all be able to reflect on 365 days during which we actively reached out to those who need our help and support, or during which we reached out for help when we thought that we were "losing it", going over the edge or about to do something dangerous, harmful or unlawful.
Let's make November a month of positive change for our nation and the start of a national effort where we concentrate on everything we can do to make ability a hallmark of our society.
Jacob Zuma
President of the Republic of South Africa