When Matseke Maserumule, 28, left the corporate world in 2012 to follow her passion for caring for the environment, she had no idea that she would end up running a leading recycling business.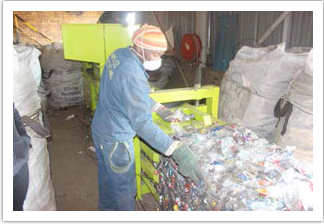 In 2010, Maserumule registered Silver Ink Environmental, Solutions and Projects CC but the company only started operating in January 2013.
In 2012, she applied for a grant from the National Youth Development Agency (NYDA). The application, which took about a year to process, was successful and the company was granted R10 000.
"I used that money to buy a scale and a printing machine," said Maserumule.
The company, situated north of Middelburg, Mpumalanga, collects cans, cardboard, paper, plastic, and glass from nearby dumping sites, industrial areas, residential areas shops and schools.
Workers collect these items and take them to the buyback centre, where it gets sorted according to texture and colour.
"After sorting, baling takes place and bundles are sold to recycling centres. Silver Ink also buys waste from the community, for which it pays per kilogram," explains Maserumule.
Maserumule's business also received help from the NYDA's Entrepreneurship Development Programme (EDP) to market her business.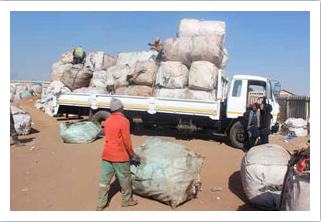 "The business was operating with one scale and I was also using my bakkie and trailer to collect from surrounding communities and industry. This was time consuming and also delayed production," she said.
Things improved in 2013 when Nampak sponsored the company with a compressing machine. She then bought two trucks and other office equipment.
In August the same year, she won the Pettrepreneurs Woman of the Year award, which was organised by recycling company PETCO. The prize was a compressing machine.
Silver Ink currently employs 25 people on a six month renewable contract, based on performance.
Rikeda Mudau's life has changed since she started working at Silver Ink.
She says thanks to her job, she now earns enough to care for herself, husband and two children.
Maserumule encouraged others to care for the environment and participate in programmes such as the Coca-Cola Shanduka Beverages (CCSB) Recycling Initiative.
The initiative is aimed at educating learners, CCSB customers and communities about the importance and benefits of recycling through a competition at selected schools and customer stores. It is a joint venture between CCSB, the Steve Tshwete Municipality, PETCO, the Mpumalanga Department of Education and Silver Ink.
"My dream is for my business to be known globally and for the business to expand to other areas," says Maserumule.
She is now in the process of procuring 3 000 square meters of land to make her dream a reality.
For more information on the NYDA call 0800 52 52 52.