The South African National Defence Force will deploy more than 1 500 troops to the African Capacity for Immediate Response to Crises (ACIRC), which will help ensure stability on the continent.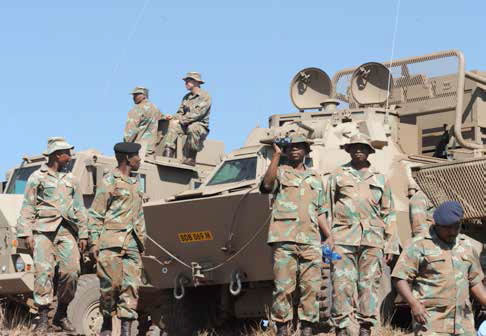 The troops who will be sent to ACIRC have been undergoing intensive training to prepare themselves for any situation they may face on the African continent.
ACIRC is a standby force that will quickly respond to crises and conflicts on the continent. Member states of the African Union (AU) will contribute troops to ACIRC on a voluntary basis.
Chief of the SA Army Lieutenant-General Vusi Masondo said ACIRC would play an important role in ensuring safety and security in the continent.
"Let me warn the enemies of peace across the African continent that the legitimate armed forces on the African continent will act as a collective to quell any from of instability that threatens our people," he said.
Lt-Gen Masondo added that the SA Army had made good progress in readying the country's soldiers who would become part of ACIRC.
"…We have been successful in bringing to fruition the key objectives set to facilitate the formation of the ACIRIC and put capable boots SA troops to maintain peace in Africa on the ground to take forward the AU's goal to swiftly maintain an efficient and lasting continental peace and security.
"We have made strides in terms of preparing and employing capable fit-for-purpose soldiers to respond to Africa's demanding geo-political situation."
As part of the country's contribution to ACIRC, the SA Army will send a motorised infantry battalion, a composite armoured car squadron, a light artillery battery, an air mobile anti-aircraft battery, a composite signal squadron and 1 Tactical Intelligence Regiment.
The South African Air Force will contribute a mobile air operations team, the services of two Gripen attack aircrafts, two utility helicopters and supporting staff.
The SA Navy will deploy a boat squadron and marines.
"As Africans, through the creation of ACIRC, we surely have turned the corner when it comes to owning up and addressing our challenges of lack of peace, rife instability and unmitigated weak states that allow criminals and war-mongers to exploit our people and perpetuate underdevelopment.
"With ACIRC we say enough is enough and never again shall Africa descend into chaos while we know what needs to be done," he said.
He added that the force had been well trained was ready for its task.