A Free State high school has helped its first matric learners to beat the odds and pass matric.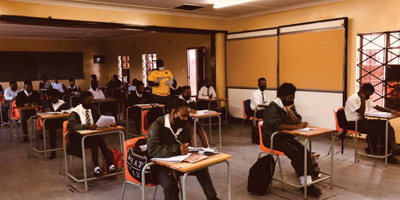 TM Setiloane Secondary School in Thaba Nchu has made the Free State Department of Education proud by producing a 2020 matric pass rate of 100%.
This is major feat considering that the school only added its first Grade 12 class to its education offering last year.
Overall, the Free State's 2020 matric pass rate was 85.1%, positioning it ahead of all other provinces.
According to principal Teboho Mabitle, the school was established in 1992 as a middle school. In 2015, it merged with Thejane and Ikaelelo middle schools and was renamed the TM Setiloane Secondary School.
"After concluding a teacher qualification audit, it was evident that all were qualified to teach in a secondary school. In preparation for a fully fledged high school, we introduced grades 10, 11 and 12 in 2020," says Mabitle.
In 2020, the school had 266 learners, 24 of whom were in Grade 12. Four of these learners unfortunately dropped out. This year, the school has 323 learners, 28 of whom are in Grade 12, and 10 educators.
While the school is situated in Selosesha township, most of its learners come from Serwalo Village, Thole Village and Merino Trust. The majority are from impoverished homes, characterised by unemployment and child-headed families.
Tshepiso Sethoba (27) joined the school as a temporary teacher in 2018. "I teach tourism to grades 10, 11 and 12 and business studies to Grade 10. My biggest achievements so far are teaching Grade 12 for the first time and being able to obtain a 100% pass rate with an average of 70%," she says.
Like all schools, TM Setiloane was affected by the Coronavirus Disease (COVID-19) and the lockdown regulations.
Sethoba says she could not have one-on-one sessions with her learners. To ensure that teaching and learning continued outside the classroom, Sethoba and the school's management used social media to provide support to learners.
"I availed myself to offer lessons on social media, send previous question papers and address topics that learners found challenging while learning from home. Some of the learners did not have cellphones, so I would send the content to their parents so that they were not disadvantaged," says Sethoba.