When Vivian Kleynhans decided to go into wine farming in 2005, she transformed her family's fate.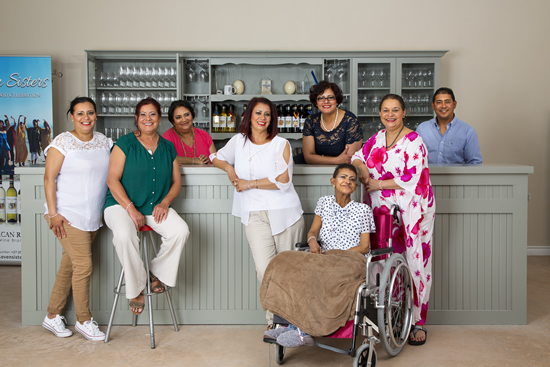 The then Minister of Agriculture had made a request for black people to get involved in the wine industry in the higher value chain and this ticked all Kleynhans' boxes.
She and her seven siblings were separated when she was a teenager after her father lost his job and they were evicted. "I was looking for a business opportunity that could change our destiny and build a legacy for generations to come," said Kleynhans.
Thanks to her gamble, the siblings were reunited through fine wines after a separation of 20 years.
It was touch and go for a while, however. Kleynhans said government had established the South African Wine Industry Trust in 1999 with the aim of developing black entrants. However, it was only in 2006 that Kleynhans and 51 other black-owned brands received funding to kick-start their businesses. By then, many – including Kleynhans – were in financial difficulty.
 "It was a case of swim or sink; 11 companies [out of the initial 52] remained and worked together as the African Vintners Alliance, now called the Treasure Chest."
Tenacity, skills and support
They set about equipping themselves with as much industry knowledge as they could. This included attending international wine exhibitions through the Department of Trade and Industry. Kleynhans also enrolled in a Wine Management and Marketing course at the University of Stellenbosch Business School.
The year 2007 was a turning point for Kleynhans. She secured a client in the United States and began exporting her wines. In 2009, her Sauvignon Blanc became the first South African wine to be served on American Airlines in first and business class and a few years later, her brand could be found on the shelves of Walmart stores.
Also in 2009, she and her family were awarded an 8.7 hectare piece of land in Stellenbosch under government's land reform programme and a grant of R4.8 million through the Land Redistribution for Agricultural Development programme.
Kleynhans, her son and three community members set about transforming the barren land into a fully-fledged wine farm with the help of a mentor appointed by the Department of Agriculture. 
She has since added Nigeria, Germany, Canada and China to her growing list of international markets and today African Roots Wines – with its Seven Sisters label – is a global player.