Maureen Mkhize spent years without a job before a training programme opened doors for her in the construction industry.
After idling at home with no prospects of employment, Maureen Mkhize has gone from struggling to make ends meet to establishing a formidable company in the space of six years.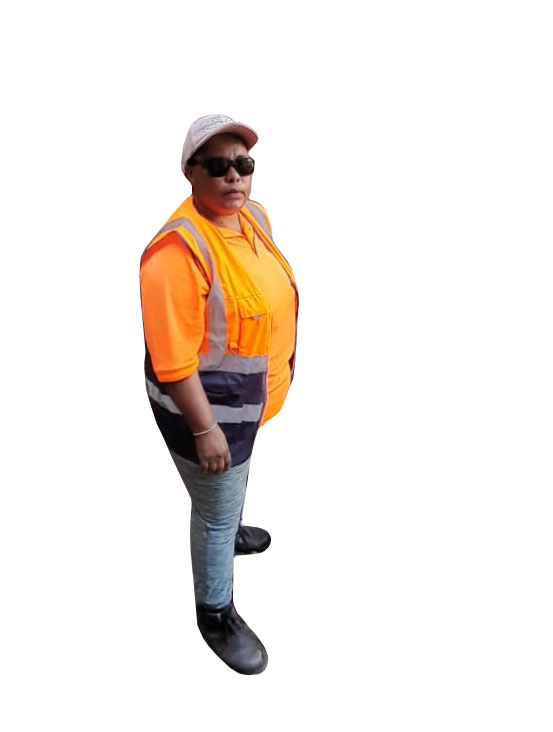 Mkhize's journey began in 2017 when she was selected as a beneficiary of a training programme by Renishaw Hills and the Construction Education and Training Authority. 
Renishaw Hills is an upmarket estate in Scottburgh, on KwaZulu-Natal's (KZN) south coast. It is situated in the Renishaw Coastal Precinct, which is one of the country's biggest developments currently under construction.
So far, about R500 million has been spent on the 25-hectare Renishaw Hills, the first development within the Renishaw Coastal Precinct. 
The development is one of the investment commitments to come out of the five South Africa Investment Conferences since 2018, the year President Cyril Ramaphosa announced an ambitious drive to attract R1.2 trillion in investments over five years.
To date, 161 projects have either been finalised or are under construction.
Explaining how her life has changed over the years, Mkhize recalled that up until 2000, she was employed as a domestic worker, but then the family she worked for relocated.
"I then had to rely on odd jobs and eventually I went for about four years without a job," said the 44-year-old, from Mandawe in Scottburgh.  Mkhize then joined the training programme and gained experience in making and installing gabion baskets.
Barely a year after completing the programme, she established her company, Venka Trading, which currently employs 26 people. The company supplies gabion baskets which are used for retaining walls, erosion control, and landscaping. 
Gabion baskets are made using wire mesh which is then filled with stones. Venka Trading supplies the Renishaw Hills development and other businesses on the KZN south coast.
Mkhize said she learnt various construction-related skills as part of the training programme.
"Apart from learning the skills, I was also taught how to register a company so that I would be able to stand on my own. Even though I have my own company now, Renishaw still helps me operate it," she said. 
The training and skills have also helped Mkhize support her family.  "I was able put my child through school and today he is a teacher because of the opportunity I got from Renishaw," she said. 
Mkhize added that the youth now have opportunities thanks to the development in the area. 
"Some [youth] have degrees but they cannot find employment. Through Renishaw, they will be able to get the skills that will help them open their own businesses ...Most importantly they will be able to put food on the table." Mkhize said she is proof of the training programme's success.
"It is the first time that such a programme produced results that can be seen by people in the area. Renishaw is giving community members an opportunity to have their own businesses and also be employers. I am proof of that because today I have a company that employs people," she added. 
CALL FOR NOMINATIONS FOR COUNCIL MEMBERS TO SERVE AT LIMPOPO AND NORTHERN CAPE COMMUNITY EDUCATION AND TRAINING COLLEGE IN TERMS OF SECTION 10 (4) (b) OF THE CONTINUING EDUCATION AND TRAINING ACT NO. 16 OF 2006 (as amended)
The Minister of Higher Education, Science and Technology invites members of:
(a) the public;
(b) community education and training colleges, student representative councils of community education and training colleges, universities, universities of technology, other higher education institutions, private higher education institutions, private colleges, technical and vocational education and training colleges, the distance education sector, educators, lecturers, organised business, organised labour, provincial governments, municipal governments;
(c) members of the business community;
(d) research and science councils; and
(e) relevant non-governmental organisations
To nominate persons by virtue of the fact that they can give expression to:
• ensuring that the functions of the council are performed according to the highest professional standards;
• ensuring that the council is broadly representative of the continuing education and training system and related interests;
• ensuring that the council members have a thorough knowledge and understanding of the continuing education and training sector, including the functions identified and applicable to Community Education and Training (CET) College as promulgated in the White Paper on Post-School Education and Training;
• appreciating the role of continuing education and training in reconstruction and development; and
• ensuring that the council is broadly representative of the demographics of the community to be served by the public CET College in respect of gender, race and disability.
Nominations should be made using the nomination form obtainable from the Departments website at www.dhet. gov.za or email kodisang.e@dhet.gov.za or call 012 312 5750. Nomination forms must be accompanied by a comprehensive curriculum vitae. Nominations made in reply to this notice must be submitted within thirty days after the publication of this notice.
The nominations must be submitted to:
The Director-General, Department of Higher Education and Training, Attention: Ms T Futshane, DDG: Community Education and Training, Private Bag X 174, Pretoria, 0001
SCHEDULE
College which have vacancies in terms of section 10 (4) (b)
Province Name of College Physical Address Number of Vacancies
Northern Cape Northern Cape CET College 19 Oliver Road Monument Heights Klisserville, KIMBERLY, 8301 One (1)
Limpopo Limpopo CET College JCJ Corner Suid and 2 Biccard Street , POLOKWANE, 0699 One (1)