Written by: More Matshediso
YOUTH MATTERS
While South Africa continues to tackle poverty and unemployment, a youth-owned cooperative in Mpumalanga believes that riches are in the soil.
Intandekho Agricultural Primary Cooperative was in 2019 registered by six young people of Amsterdam in Mkhondo Local Municipality.
Cooperative director, Kwenzakwenkosi Khumalo (30), said the aim of the entity is to secure food within his community and create employment for
the youth.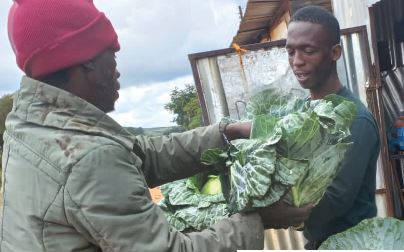 "We always knew that riches are in the soil, even though we did not want to farm. However, we had to do it because we wanted to participate in the
economy and create jobs while ensuring that our communities have enough food," he said. 
Khumalo's passion for agriculture dates back to when he was just seven years old, participating in agricultural activities with his family members
who are passionate about farming.
In 2019, he partnered with five young people from his community to start the cooperative.
In the same year, Intandekho acquired 10 hectares of land from Ebukhosini Baka-Dhladhla in Amsterdam for crop production.
The cooperative produces tomatoes, cabbage, spinach, green pepper, pumpkin, butternut, carrots, beetroot, maize and beans.
"In our last harvest, we managed to produce 100 tons of butternut, 8 000 heads of pumpkins and 300 crates of tomatoes," he said.
The cooperative's ultimate goal is to move from poverty alleviation to wealth creation through agro-production, processing, packaging and
distribution.
 
In 2022, the cooperative received funding to the value of R265 318 from the National Development Agency (NDA) for the installation of electrical
pumps, a power-driven motor for its irrigation system, connect a water pump to Jojo tanks, construction of a pack house with ablution facilities
and a cold room.
The cooperative has also received funding worth R100 000. In 2019, it received R50 000 from the National Youth Development Agency.
The Department of Agriculture, Rural Development, Land and Environmental Affairs in 2020 also gave Intandekho R50 000 as part of COVID-19
Relief Fund.
In 2019, the South African Forestry Company Limited provided the cooperative with 3 000 seedlings, two wheelbarrows, a diesel pump engine, a 2
500 litre water tank and pipes.
Vumbuka Trust also donated a R15 000 grant for implements such as dry seed, tools, diesel water pump for emergency situations and the immediate running of the vegetables' production.
The Small Enterprise Development Agency also provided members of the cooperative with training on how to run a successful business.
The cooperative sells its produce to locals and supplies Izimbali Combined Boarding School in Amsterdam with their produce.
NDA Mpumalanga Provincial Manager, Maxwell Mathebula, said there is a serious need for youth cooperatives in rural communities because
they create an environment where young people are active agents of development opportunities.
For more information about the cooperative, you can call 087 510 7719/ 076 073 0614 or email: intandekhoagric@gmail.com You can visit the NDA website for more information about funding www.nda.org.za NYDA: www.nyda.gov.