As South Africa battles a third wave of the Coronavirus Disease (COVID-19), the country's mass vaccination programme is expanding to include more categories of people.
South Africans between the ages of 50 and 59 are expected to start receiving vaccines from 15 July.
"The [vaccination] programme has picked up significant momentum, with key milestones being achieved as we move forward," said President Cyril Ramaphosa.
The first phase of the vaccination programme focused on healthcare workers, while the second phase targeted the age group of 60 and above.
The national vaccination programme is now continuing along defined streams.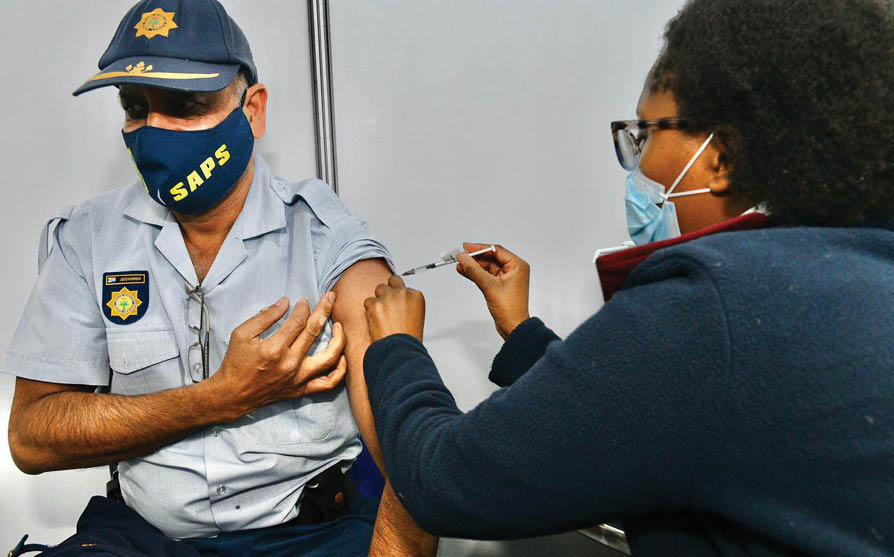 The first stream is the general population according to age groups. On 1 July, registration for vaccination on the Electronic Vaccination Data System (EVDS) opened to 50 to 59 year olds.
The second stream commenced with those working in the basic education sector, which includesteachers. They started receiving vaccines in June.
The third stream is focusing on police and other security personnel. Those who fall under this sector started receiving the vaccine at the beginning of July.
 The fourth stream is through workplace programmes in key economic sectors, such as mining, manufacturing and the taxi industry.
Arrival of vaccines
The vaccination programme is expected to pick up pace with the arrival of more vaccines in the country.
Acting Health Minister Mmamoloko Kubayi-Ngubane said about 2.1 million doses of the Pfizer vaccine are expected to arrive in July.
Pfizer delivered nearly 4.5 million doses in quarter two and has committed to just over 15.5 million doses in quarter three.
"Johnson and Johnson has so far delivered 500 000 early access doses used for Sisonke, 300 000 market doses two weeks ago and 1.2 million doses, [which] landed recently. These doses all need to be used by 11 August."
The country is also awaiting confirmation of a further of 500 000 doses, which expire on a later date than the other doses.
Red alert
While Gauteng remains the epicentre of the COVID-19 pandemic Minister Kubayi-Ngubane has warned that many provinces in the country are almost at red alert as infections continue to increase.
"The trends are clearly showing that other provinces which are currently lagging, are going to experience the trend we are seeing in Gauteng, most notably in the Western and Eastern Cape. What worries us as well, is the positivity rate. If you look at Limpopo, it has almost a 42% positivity rate, which is leading in terms of positivity rates."
She said the  COVID-19 situation in the country remains of great concern, as the numbers continue to increase at a rapid rate.
"We remain very worried about the rise in hospitalisations, which is putting a lot of strain on the health facilities in Gauteng.
"The private health hospitals are currently operating at more than 100% capacity and public health hospitals are edging closer to full capacity."
Fighting the pandemic
President Ramaphosa has called on South Africans to take measures, to protect themselves, adding that the tried and tested public health measures, that are in place, are our best chance at fighting the pandemic.
"They are not complicated, difficult or expensive. Whatever inconvenience they may be to us, they are certainly better than becoming seriously ill and needing hospitalisation.
"We must always wear a mask in public. We must regularly wash or sanitise our hands. We must always keep a safe distance from others. Unless it is necessary, please remain at home," stressed the President.
He added that South Africans are all responsible for not only their health, but also the health of those around them.
"We must all be worried about what we are seeing unfold before our very eyes. Every one of us has a friend, a family member or a colleague who has been infected.
"There are few in our country who have not had to bury a family member, a friend or a loved one who lost their lives to this disease."
President Ramaphosa said while the pandemic may seem overwhelming, South Africans can do something about it by making the right choices to safeguard their lives and those of others.