Making the most of 2010
Only God can take it away," said FIFA President, Sepp Blatter about reports that there were plans to take the 2010 World Cup to another country. Talking at the 2010 Business Opportunities Conference in June, Blatter assured South Africans that they would host the greatest sporting event in the world. "We will ensure that the 2010 World Cup is something South Africa and Africa will be proud of," he said.
FIFA is going all out to support government and everyone else involved in the event. "This will ensure that the World Cup is done the African way and will be a major success," he said.
Opportunities
South Africans must be ready to welcome about 400 000 foreign visitors. It will boost the country's economy by about R51 billion. The World Cup will bring a lot of business opportunities to our doorstep in things like accommodation, catering, tourism, transport, construction, security and manufacturing.
The Business Opportunities Conference, held by the 2010 Local Organising Committee, the Department of Trade and Industry and the Ekurhuleni Municipality, looked at some opportunities for small and big businesses.
Follow the rules
People who want to use these opportunities, must follow the proper channels. This includes registering your business and following the FIFA rules. It also means you must sign a contract with MATCH and Global Brand.
MATCH is the name of a company that provides services to FIFA in areas like accommodation.
Global Brand is a company responsible for licensing the FIFA logo for businesses. The 2010 FIFA World Cup logo may not be displayed or used anywhere for business purposes if you don't have a licence. For example, you are not allowed to print T-shirts, caps or bags with the 2010 World Cup logo without a licence.
Something different
Jaime Byrom from MATCH said that visitors would be looking for something different that is truly African. They will not look for it in big-name hotels, but will want to see the real South Africa in small towns and villages.
MATCH will register more than 55 000 rooms for international soccer fans all over the country.
MATCH will also encourage communities to get together or form co-operatives and register their areas as 2010 satellite centres for accommodation.
To qualify as a satellite centre, at least 200 rooms should have been registered and graded by the Tourism Grading Council of South Africa.
From next year, government will contribute 50 per cent to grading fees through the Department of Trade and Industry.
Co-operatives
Small businesses are encouraged to come together and form co-operatives to get bigger shares of the business. They should contact the Local Organising Committee to find out where services are needed.
- Ndivhuwo Khangale
2010 is an opportunity to speed up growth and development in South Africa. It is also a chance to market our country and Africa to the world. Even though doing business in certain areas, like stadiums, will be limited to FIFA and its sponsors, there will also be opportunities for local entrepreneurs.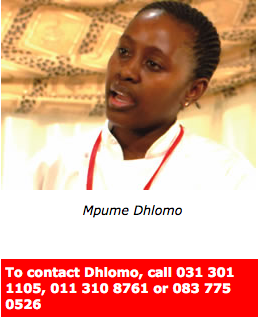 GETTING A TRUE TASTE OF AFRICA
At the 2010 Business Conference, people talked about different business opportunities including those with food and drinks.
Mpume Dhlomo was one of the entrepreneurs who exhibited her products - special African dishes mixed with European flavours.
Dhlomo of Pinetown, KwaZulu-Natal, runs a restaurant called Africa Meets Europe. "African food must find its way to hotels and smart restaurants. There is no reason why you can't have pumpkin leaves, livers and pap in hotels and restaurants. You just have to make it classy," said the 32-year-old cook, who has exhibited her food in France and other European countries.
One of her delicious recipes is amadumbe with olive oil, salt and pepper, mixed with white sauce and Italian pesto (a sauce made from fresh basil and garlic, usually served with pasta or grilled meat).
Dhlomo also serves chicken livers with cornbread and imbuya - a traditional herb that can be mixed with pumpkin leaves or with Asian sauces.
GIVE VISITORS SOMETHING DIFFERENT
Transport
About 10 000 taxis will be needed to transport people to stadiums, shopping centres and tourist attractions. To be awarded a transport tender, taxi owners and drivers must come up with something different that will attract visitors.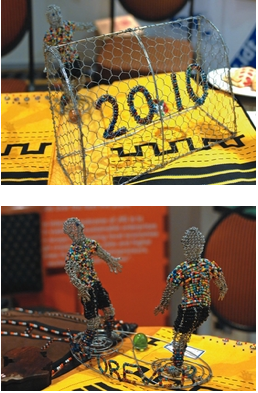 Fan fest parks
Fan fest parks are areas where lots of people who don't have tickets for the stadiums will watch the games on big screens.
Security, food and drinks, transport, cleaning services and entertainment will be needed at the Fan fest parks.
Entertainment
Africa is known for its big five group of animals – lion, elephant, buffalo, leopard and rhino. Every area in the country should have its own big five. They don't have to be animals, but can be other things that will give visitors a special African experience. It can include traditional dancing and singing, arts and crafts, story telling and poetry, bush walks and bird watching.
Food and clothing
Food will be an important way for visitors to get a real taste of Africa. Restaurants and other food outlets can offer traditional dishes, snacks and drinks.
Visitors will also like to take home clothing with a special African look.