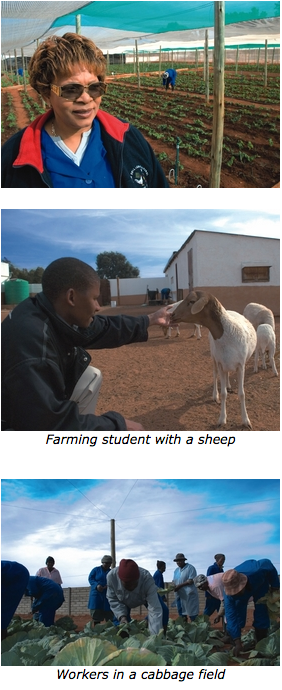 TRAINING FUTURE FARMERS TO FEND FOR THEMSELVES
The soil we walk on, spit on and often disrespect, is a giver of life. This is Sabina Koza's key message when she teaches students how to farm, grow vegetables and sell their products to earn a living.
Braving the winter cold, students gather around "Mama" Khoza every morning to learn about farming. Students from different areas in and around Soweto attend Sabina Khoza's small farming school in Zuurbekom. The students, who are mostly from poor families, are trained free of charge.
So far, 1 147 future farmers have graduated from the school, which is called Fair Deal Training Centre. Its motto is "Education with Production."
Food and shelter
Nominated for this year's community builder of the year award, Khoza said she started farming by mistake.
Khoza, who comes from Mfolo in Soweto, says with democracy in South Africa came the freedom to buy land anywhere in the country. When she bought the small farm near Soweto, three families lived there. She couldn't chase them away because of her religious beliefs. The challenge was to ensure that they had food and shelter.
"I had no farming background. I am just a township girl with some experience as a furniture sales lady. I wondered how on earth I was going to help these poor souls in my yard," she said.
Chicken farming
But the "poor souls" in her yard told her that the soil would take care of all of them. So she went to the Westonaria local municipal offices and got information on how to start a farm. Someone with knowledge of farming from the local government was sent to help her.
Khoza started with chicken farming. They later grew vegetables, which they sold at the market and in Soweto.
Fighting poverty
Realising that she could use her new skills to help fight poverty in the community, Khoza decided to open a farming school. "I teach people to fend for themselves," she said. The forty-day basic training course includes subjects like plant production, weed and pest control, soil preparation and fertilisation, poultry production, crop diseases and choosing the right tools.
By teaching farming skills to disadvantaged students, Khoza is helping government to reach its target of halving poverty by 2014. Because many of the graduates are women and young people of school-going age, she is also helping to empower women and to create an interest in farming among the youth.
- Muzi Mkhwanazi