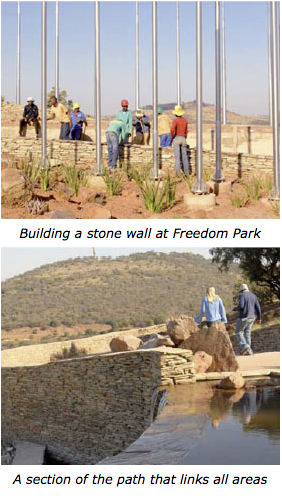 A PLACE FOR HEALING AND CLEANSING
"Freedom Park is not a place of grief and mourning, but of celebration; a tribute to African and human dignity, and a place for the renewal of the human spirit." - President Thabo Mbeki
Songs of freedom fill the air when you enter Freedom Park.
This heritage site on the Salvokop hill in Pretoria is a symbol of the struggle for humanity and freedom. It is also a spiritual place for healing and cleansing of the spirits of people who fought for freedom. But it does not only focus on the struggle against apartheid, it also tells the story of South Africa's history and culture from long ago until today.
Stone walls
From Freedom Park you have a beautiful view of Pretoria and the areas around it.
One of the most striking things about the site is the walls and paths made of carved stones from Limpopo. The stone walls show the names of people who died during the country's different periods of conflict. These include times of slavery, wars of resistance, the Anglo Boer wars, the first and second world wars and the struggle for liberation from apartheid.
Language and culture
Each area of the park has a special meaning and represents a different part of the country's history. All our languages and cultures are also represented like, for example, in the names of the areas.
The park is open to the public and is ideal for school tours, business functions, tourists, family picnics and cleansing ceremonies.
Some areas are still being built, but everything will be completed by 2009.
-Ndivhuwo Khangale
The main areas of Freedom Park
Isivavane represents the resting place of the spirits of those who gave their lives in the struggle for freedom.
Sikhumbuto commemorates the main periods of conflict in South Africa's history.    
Tiva is a still body of water where peace and calmness is felt.
//hapo is the museum where South African history, dating back from
3,6 billion years is showed with pictures and sound.    
The Pan African Archives is where the country's history is stored in computers for the public.    
Moshate is the place where people can get together and talk.
Uitspanplek, which means resting place in Afrikaans, is an area where the whole family can spend the day relaxing.
The amphitheatre is a large open-air theatre with seating for about
2 000 people. It is ideal for festivals and outdoor activities.
Mveledzo is a path that links all the
areas to form one single monument
festivals and outdoor activities.
 
For more on Freedom Park, call 012 470 7400, or visit the website at www.freedompark.co.za