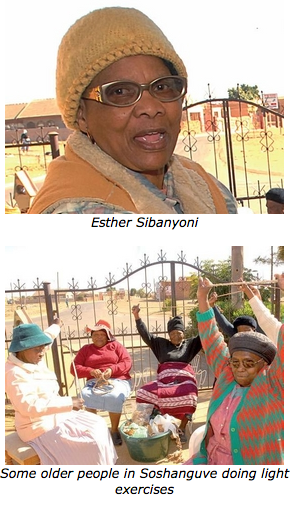 On Tuesdays, house number 1757 in Block G Soshanguve, north of Pretoria can be mistaken for a pension payout point.
Grandmothers are seen packed in the garage and in the yard knitting or making different products. They sometimes take a break to do light exercises.
This is Esther Sibanyoni's house. Sibanyoni, a retired librarian and a nurse, is 70 years old, but she looks like a woman in her 50s
Community Builder
As a community builder who has won several awards, Sibanyoni shares her knowledge and skills with fellow older persons on how to stay healthy and make a living.
The energetic and positive Sibanyoni has 50 members in her Soshanguve Care for the Aged project. She showed Vuk'uzenzele the products they make and the exercises they do to stay fit using waste material like empty plastic bottles.
Sibanyoni is known for other community projects that won her awards like the Sowetan /Old Mutual Community Builder of the Year award and the Shoprite/Checkers SABC3 Woman of the Year award.
Sharing skills
Sibanyoni started the old-age project in August 2006 after realising that many grandmothers used their pension money for medicine to treat diseases that could be prevented.
"I started with about eight grannies sharing skills like knitting and health tips. Most of them suffered from diseases like tuberculosis, arthritis, or diabetes. As a retired nurse, I know some of these diseases are caused by ageing and bad diet," she said.
Today the grannies follow healthy diets and earn an income. They make products like cushions, hats, gloves, shoes, sheets, scarves and baby clothes, using waste material collected from factories and dressmakers.
The products are sold to the community.
- Ndivhuwo Khangale
26 to 30 September 2007 is Older Person's Awareness Week. During this time, the Department of Health will educate older people and the public about how to take care of the aged and age-related matters.
Health tips for older People
Eat boiled food rather than fried foods.
Avoid using cooking oil; rather use olive oil.
Do not eat too much salt, sugar, sweet fruits or white bread.
Do light exercises or walk around the yard every morning. It helps to improve blood circulation.
If you drop something on the floor, slowly bend down and pick it up. It helps support the spine.
Train your eyes by swinging a tennis ball or something else in front of your eyes.
Find useful things to do like community work or light housework.
To contact Soshanguve Care for the Aged, call (012) 797 3614
Write to:
Vuk'uzenzele Health Advice
GCIS
Private Bag X745
Pretoria, 0001
E-mail us on: vukuzenzele@gcis.gov.za
The Department of Health will advise you.
CANCER: WHAT YOU SHOULD KNOW
What is breast cancer?
Breast cancer is an uncontrolled growth of breast cells. Cancer has the potential to break through normal breast tissue barriers and spread to other parts of the body.
What causes breast cancer?
While cancer is always caused by a genetic "abnormality" (a "mistake" in the genetic material), only 5 – 10% of cancers are inherited from your mother or father. Instead, 90% of breast cancers are due to genetic abnormalities that happen as a result of the aging process and life in general.
Signs and symptoms of breast cancer
Breast cancer symptoms vary widely – from lumps to swelling to skin changes. Many breast cancers have no obvious symptoms at all. Symptoms that are similar to those of breast cancer may be the result of non-cancerous conditions like in-fections or a cyst.
How can breast cancer be prevented?
While there are things every woman can do to help her body stay as healthy as possible (such as eating a balanced diet, not smoking, minimizing stress, and exercising regularly), breast cancer is never anyone's fault. Feeling guilty, or thinking that breast cancer happened because of something you or anyone else did, serves no purpose.
Self-examination for breast cancer
Breast self-examination should be part of your monthly health-care routine, and you should visit your doctor if you experience breast changes. If you're over 40 or at a high risk of getting the disease, you should also have an annual mammogram and physical examination by a doctor.
Cervical cancer
Cervical cancer is the second most common cancer in women, and is one of the most preventable forms of cancer..
What is cervical cancer?
The cervix, or mouth of the womb, can develop cancer. All women should have a pap smear at least once every 10 years to detect cancer cells.
A pap smear is a simple, painless procedure that is done during a vaginal examination at a health clinic or a doctor's office. Some cells are gently wiped off the cervix and sent to the laboratory for testing.
What causes cervical cancer?
Most cervical cancers (99%) are linked to genital infection with the Human Papilloma Virus (HPV) which is transmitted through sexual intercourse, especially if you have many sex partners
Signs and symptoms of cervical cancer
Generally there are no signs until cervical cancer has progressed. Bleeding may start and stop between menstrual periods, or it may occur after sexual intercourse. Menstrual bleeding may last longer and be heavier than usual. Increased vaginal discharge can be another sign of cervical cancer.
How can cervical cancer be prevented?
Cervical cancer can be prevented by: avoiding HPV infection through using condoms; avoiding multiple sex partners; postponing early sexual intercourse until older; not smoking cigarettes.
Breast cancer is the most common cancer found in women. The earlier breast cancer is found and diagnosed, the better your chances of beating it
A regular pap smear can detect cervical cancer. The earlier it is diagnosed, the greater the chance of it being successfully treated.