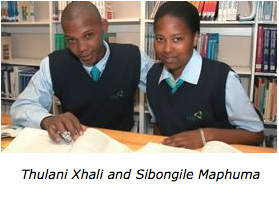 ALICEDALE, A MODEL FOR SOUTH AFRICA
HARD-WORKING, HUMBLE AND ALMOST CRIME-FREE
The people of Alicedale, a small village in the Eastern Cape, are friendly, humble and hard working. Many are poor, but for them poverty is no excuse for doing crime. They live in an almost crime free community.
Alicedale Police Station Commander, Mthetho Qinga, said there are just about no incidents of serious crime in the area. "Murder, rape, hijacking and armed robberies are very rare. I can't remember when last we had a murder case. Even minor crimes like stock theft and assaults are unusual in Alicedale," he said. "In one month we sometimes have one or two cases of stock theft or assault and at times no incidents are reported at all," he added.
The low crime rate is a result of police efforts and the improved economic situation in the area, as well as the positive attitude of the people.
Alicedale is a model for other communities to follow. It is a shining example of government's call for social cohesion. It is a place where people of all races work hand in hand to improve their lives. The partnership between government and a privately owned hotel group in Alicedale also shows how government and the private sector can work together to create better lives for all.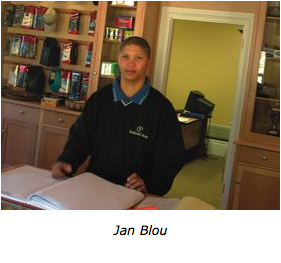 BURSARIES FOR FUTURE HOSPITALITY MANAGERS
Thulani Xhali and Sibongile Maphuma are proud recipients of the Mantis Collection bursaries to study for a three-year BCom degree in Hospitality Management. The Mantis Collection Group, who sponsor the bursaries, own the Bushman Sands Hotel in Alicedale. The company has invested a lot of money in skills development and job creation for local residents. The two students are the first of 12 who are part of the bursary programme started by the Educational Institute for Services Studies based in Port Alfred.
FROM UNEMPLOYED RUGBY PLAYER TO MANAGER
The life of Jan Blou, a former rugby player for the Eastern Province, was almost destroyed after his contract with the team ended in 2001. Left unemployed, the 27-year-old Alicedale resident had no job skills and was facing a life of poverty.
Blou saw his salvation in the local hotel, where the majority of people in Alicedale work. He attended a game-ranging training course there, but failed his driver's license, which was part of the course.
Blou said he almost lost hope, but an old man who worked at the hotel encouraged him to find a job as a gardener. From there he could improve his skills.
"While working as a gardener, I applied for a job as a porter, but didn't get it. Instead, I was offered a job as a shop assistant at the hotel's golf shop," he said. Blou did so well that he was promoted to shop manager last year. "I never thought something good could happen to me or to Alicedale," he said. "But with the hotel being here, there have been a lot of positive changes and the future looks very bright," he said.
"Anything is possible in Alicedale now," said the former rugby player and gardener, turned shop
manager.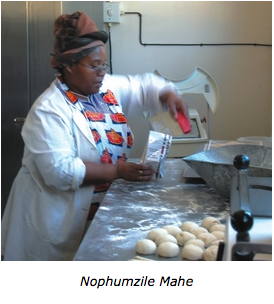 BAKING THEIR DAILY BREAD
Many people in Alicedale work in the hotel industry, but there are also those who realise that a hotel cannot give jobs to everyone.
"The hotel industry brings much-needed business opportunities, but it is not manna from heaven," said, Nophumzile Mahe.
Mahe and 23 other women in the area decided to start a bakery in the town because there wasn't one in the area. They hoped that the hotel would order bread and cakes from them.
After they worked out a business plan, they got money from the Eastern Cape social development department to start the business. "We now have bread in abundance," said Mahe. She said shops in the town now rely on them for their daily bread. Their target is to get a government contract to supply bread to local schools.
"We have also talked to the hotel and they said they would think about using us to provide bread for their customers," Mahe said.
NEW DEVELOPMENTS, NEW JOBS
In 1994, just before the railway line in Alicedale closed down, many jobs were cut. Brian Mbulelo Matthews, who was a railway policeman, was one of those who lost his job. Even though he was trained in a number of skills, he couldn't find permanent work. Uncertain about his future, Matthews only got some "piece jobs".
Remembering the years after the closure of the railway line, Matthews said Alicedale experienced extreme poverty.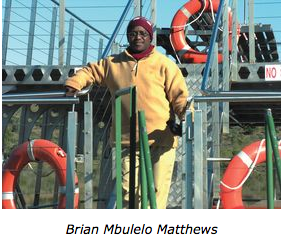 But when the Bushman Sands Hotel was built in 2003, there was new hope for the community. Jobs were created and people got free skills training.
"They helped me to train as a game ranger. I also learned to steer a boat and drive a vehicle," said Matthews, who is now helping to transport guests.
A lot of new developments, like golf estates, are expected to take place in the area. This will create even more jobs.
A new golf estate project is already offering jobs in building and construction. "As a community we are all benefiting from the developments which have started since the hotel was built," Matthews said.
- Stories by Muzi Mkhwanazi