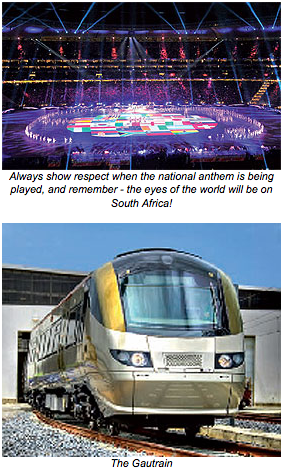 For millions of people around the world, the FIFA Football World Cup is a festival of football matches. However, for millions of South Africans, this football festival will always be remembered as the change agent that united the people and brought many benefits to the country beyond 2010.
The successful hosting of the 2010 FIFA World Cup has not only put South Africa on the world map, but has left some major legacies for the South African people. Among them are upgraded public transport systems, more resources to fight crime, football development, world-class sports facilities and improved technology.
Tourism
Hosting the World Cup has boosted South Africa as a destination of choice for tourists. But it is not only tourism in our own country that will benefit from the legacy of a memorable and successful World Cup; it will also attract tourists to the member countries of the Southern African Development Community (SADC) and the African continent as a whole.
Sports facilities
The World Cup has left South Africa with world-class sports facilities. This does not only include the official match stadiums, but related training stadiums, venues, camps and base camps. All of this will now be in place and ready for almost any sporting event that may come our way.
Infrastructure
Government spent more than R33 billion on upgrading the road infrastructure in major cities ahead of the World Cup. Development of key infrastructure for the country will attract local and foreign investment, which in turn, will help create jobs and develop skills.
Upgraded roads will also ease the heavy traffic in our cities. For example, more lanes have been added to the busy R21 and R24 Albertina Sisulu highways between OR Tambo International Airport and the Metropolitan City of Tshwane. Major roads in other provinces have also been improved.
Gautrain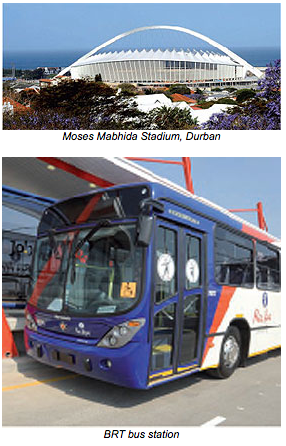 In addition, the construction of the Gautrain - Africa's first rapid rail link intercity train service - was speeded up ahead of time for the World Cup.
Just a few days before the kickoff on 11 June, the Gautrain started transporting passengers between Sandton and the OR Tambo International Airport.
When the other rapid rail link routes are completed next year, the service will also operate between the Ekurhuleni and Tshwane metropolitan areas.
The rapid rail service will furthermore improve traffic on Gauteng's highways, as there will be fewer vehicles during peak traffic periods.
Bus Rapid Transit
In other major cities, mass-passenger Bus Rapid Transit (BRT) or Integrated Rapid Transit (IRT) systems have been started to change and improve public transport.
About 85 per cent of the people living in major cities in South Africa, including Johannesburg, Tshwane, Cape Town, Durban and Port Elizabeth will now be living within a kilometre or closer to a BRT transport system.
This will have a positive effect on the lives of workers and those who do not have cars. They will now have a reliable, safe and secure public transport service.
Airports
The country's airports have been upgraded and improved in the run-up to the World Cup, with Durban boasting a brand new international airport. This will ensure that we have some of the most modern and up-to-date air travel terminals in the world, and the continent in particular, for years to come.
Security
More than R2 billion was spent on FIFA World Cup security, which was developed to FIFA's high standards. It will be a lasting legacy in the fight against crime, which is one of government's key priorities.
An additional 41 000 police officers had been specially appointed for the tournament. They have gained valuable skills and will now join other officers in fighting crime throughout the country.
In addition, the South African Police Force also got modern new equipment to help them fight crime. These include helicopters, vehicles, crowd-control equipment and modern bomb-detection and bomb-disposal equipment.
Working with the Department of Home Affairs' Immigration Branch, the police now also have a modern immigration and passport-control system that can be used to find wanted suspects at ports of entry around the country. This equipment was successfully used to stop football hooligans from entering during the World Cup at different entry points.
Football development
Football development at grassroots level has benefited a great deal from the World Cup. As part of grassroots football development, more than nine new football fields have been built in South Africa.
A further 44 fields have also been built in other African countries. The nine completed football fields in South Africa form part of the 52 fields that have been planned for the country as part of the 2010 World Cup legacy projects. The building of new football fields with artificial grass in rural areas is an ongoing project.
Olympics
All these developments will help South Africa when it bids to host other major world events. The country has already successfully hosted the football, rugby, and cricket world cups. Africa's time has come to host the Olympic Games.
- Mbulelo Baloyi
This World Cup has shown that the continent of Africa is ready to host any other major world event.