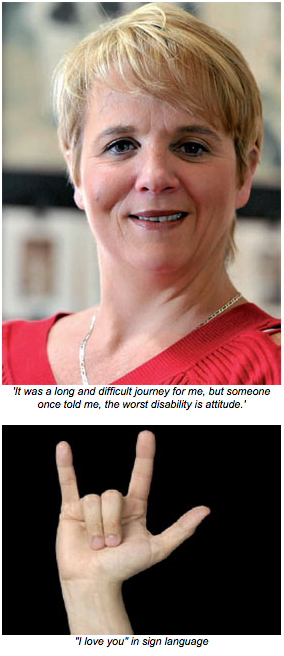 Ingrid Parkin is the first Deaf principal in South Africa. Despite her disability, Ingrid has stayed positive and focused. She says the key to achieving your goals is believing in yourself!
At the age of seven, Ingrid was involved in a car crash. She was in a coma for two weeks and when she woke up, she could not hear a sound. "I went to sleep and woke up deaf!" She then realised that things would never be the same again.
"At first, I was angry and could not understand why this happened to me," says Ingrid. But she realised there was nothing she could do to change the fact that she was deaf, but she could change her attitude about her disability.
Make the best
From that moment, she knew she had to make the best of her situation. "It was only once I accepted my disability, that I truly started the road to recovery."
Her parents enrolled her at the St Vincent School for the Deaf in Johannesburg. She progressed to high school at the Fulton School for the Deaf in Durban. Surrounded by other people like her, finally made Ingrid feel she belonged.
University
"I set goals for myself and did whatever I could to achieve them," she says. She dreamed of becoming a teacher, but a college in Johannesburg turned her down, saying that Deaf people could not teach.
Determined not to give up, Ingrid enrolled for a degree in Education at the University of the Witwatersrand. With the support and encouragement of her lecturers and sign language interpreters, she got her Bachelor's degree in Education, followed by an Honours degree in Deaf Education.
Degree
She then joined the staff of her high school in Durban where she taught for 10 years, before being appointed deputy principal. Following this, Ingrid became a director at the Deaf Federation of South Africa.
A few years later she made history by becoming the first Deaf principal in the country. "It was a great feeling and I am still so honoured."
Support
Ingrid says she has achieved her goal with the encouragement and support of her family and her husband, Deaf Olympic swimmer, Terence Parkin.
She says sometimes you feel unworthy, but your attitude determines your future. "Believe in yourself, work hard and you will achieve your goals."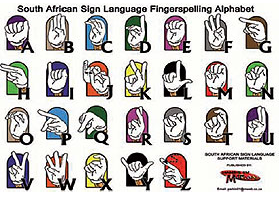 - Samona Murugan
What is sign language?
Sign language is used by people who are deaf or have hearing disabilities. They use different hand signs to communicate with other people. Some deaf people also lip-read by focusing on the movement of people's lips when they talk.
For more information, contact Deaf SA: 011 482-1610 or visit their website:
http://www.deafsa.co.za
, or call St Vincent School for the Deaf: 011 788-5430