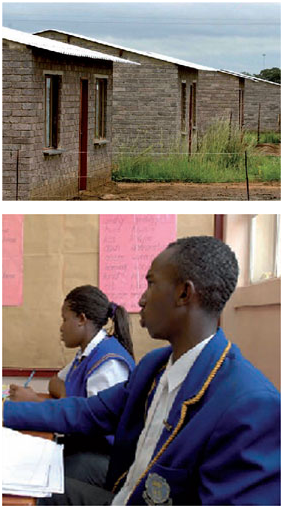 Affordable housing for all
Government is going all out to assist people to obtain affordable and habitable shelter. President Jacob Zuma emphasised this commitment at the launch of a social housing programme in East London.
Through the Emerald Sky project, government aims to provide affordable housing to people in need. The project consists of 656 units.
Close to R15 billion will be spent this year on housing, with homes being built in more than 8 000 human settlement projects throughout the country. Many of the 2 700 informal settlements alongside almost every urban and peri-urban town is also being upgraded to improve the bad conditions of those living there, President Zuma said.
Government has built over 2,7 million homes for South Africans since 1994, giving shelter to more than 13 million people.
NO more Illegal initiation
The Eastern Cape Health Department will shut down illegal initiation schools in the province to ensure that further lives are not lost during unsuccessful circumcisions. Owners of illegal schools will be arrested. They will then face jail terms of up to 15 years or a fine.
The department has also issued policy guidelines on starting initiation schools. The schools must get permission from the local traditional leader, as well as from the department. The department has urged parents to make sure a school is legal before sending their children there.
FREE STATE
Mobile clinics increase access to healthcare
To ensure that more matric learners in the province pass subjects like Maths and Science, the Free State Department of Education used the recent school holidays to present an enrichment programmes. It is aimed at problematic learning areas in Mathematics, Science, Technology and Accounting (MSTA).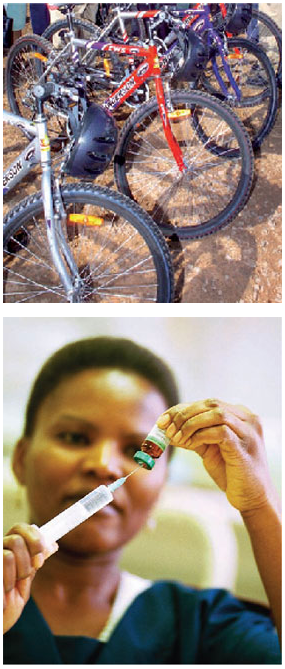 The MSTA programme is aimed at learners who have never taken part in such skills-development initiatives and to encourage them to further study the subjects after they leave school. 168 learners were chosen from ten rural towns in three districts. The programme is a partnership between the department and the University of the Free State. It forms part of other ongoing programmes that have been initiated by the department to support teaching and learning areas in the province's schools.
KWAZULU-NATAL
Cycling to school
One hundred learners from disadvantaged backgrounds in KwaZulu-Natal have received brand new bicycles from the National Youth Development Agency (NYDA). The initiative is part of the 'Ride to School Bicycle Project', which aims to help learners who have to walk long distances to schools on a daily basis.
Most of the learners who were chosen from 16 schools around Jozini had to walk about six kilometres to and from school every day. The project supports the Integrated Rural Mobility and Access (IRMA) project of the Department of Transport. It aims to develop rural transport to improve mobility and access to social and economic activities in rural areas. This project improves youth development with a special focus on young women, while also improving access to education.
MPUMALANGA
Mobile clinics increase access to healthcare
A total of 18 new mobile clinics will be launched in Mpumalanga to improve access to healthcare in rural villages and farming areas that have no clinic facilities nearby. These mobile clinics will make a difference in the lives of many rural and farming communities who are underserved because of the shortage of mobile clinics.
Mbombela local municipality, with Nelspruit as its headquarters, will receive five of the mobile clinics. Umjindi local municipality (Barberton) will get one new mobile clinic to cover farms in the area. Nkomazi local municipality (Komatipoort) will get five mobile clinics to service Tsambokhulu, Goba, Mangweni, Mandulo and Khombaso villages.
Thaba Chweu local municipality (Mashishing) will get three mobile clinics to service Sabie and surrounding areas. The Bushbuckridge local municipality with its numerous villages, many of which are isolated, will get four new mobile clinics.
NORTH WEST
TB CAN be cured
Tuberculosis (TB) is a curable disease. But despite this fact the province has seen many deaths as a result of TB. This is because many TB patients do not complete their treatment, which can lead to severe forms of TB or death. Some 30 000 patients in the province who are receiving tuberculosis (TB) treatment have therefore been urged to complete their treatment as prescribed.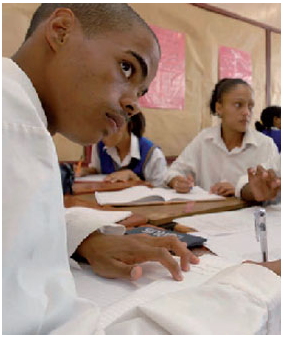 There are many types of TB, including Multi-Drug Resistant (MDR) TB and Extreme Drug Resistant (XDR) TB, which developed as a result of TB that was not managed properly. Treating these types of TB is very expensive. To help control the cost of fighting TB and reduce the high death rate from TB, the province has improved the management of the disease. All its health facilities are now able to provide TB treatment. New MDR TB and XDR TB units were launched at the Klerksdorp hospital and a new MDR TB unit at the Greater Taung Hospital.
GAUTENG
Extra help for learners
The Gauteng Department of Education started a programme of holiday classes in 276 high schools which performed poorly in their last exams. The programme, which is aimed at Grades 10 to 11, helps learners with extra lessons in mathematics, science and accountancy. Parents are urged to encourage their children to participate in these extra classes as they are crucial to passing matric.
The programme has been running since April and will continue until the September holidays, as well as every Saturday. The aim of the programme is to improve matric pass rates at the end of the year. The Department of Education aims to continue these holiday classes every year.
- Information sourced from: BuaNews and provincial websites.
For more information, call 1020 or visit your province's website.