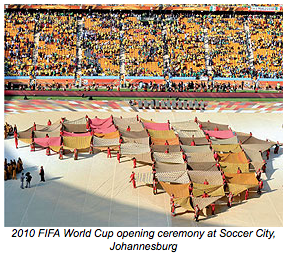 Hosting the FIFA World Cup gave South Africa a world stage and an opportunity to experience the reality that we belong to one human family, regardless of race, colour, gender, age, political and religious belief, and country or continent of origin.
It was an outstanding success, said 2010 Organising Committee CEO, Danny Jordaan after the final match. "The stadium looked beautiful - I don't think I have seen a stadium look like that anywhere in the world. I am sure that the millions watching throughout the globe were hugely impressed with what has happened here tonight."
Rebirth
On the day FIFA President Sepp Blatter announced in Zurich that the 2010 FIFA World Cup would be hosted in Africa and South Africa in particular, 800 million Africans started an exciting journey of hope.
For many Africans, both on the continent and in other parts of the world, the right to host the biggest football festival in the world, confirmed the rebirth of Africa. South Africa's elderly former President, Nelson Mandela, raised the World Cup trophy after Blatter made the announcement, declaring "I feel like a young man of 15."
On being given the right to host the 2010 FIFA World Cup, we promised FIFA that it would be the best and most successful World Cup ever.
We did it
Despite repeated talks of alternative plans if we failed, we pulled together and showed them we could do it. South Africans in their numbers responded positively to the call by government to stand Together and welcome the world with open arms.
We heeded the call to be good hosts, to fly the flag with pride, to support Bafana Bafana, participate in Football Fridays and fill the stadiums and fan parks to capacity.
Well organised
Doomsayers said we wouldn't be able to finish the 10 stadiums in time, they predicted transport chaos, power failures and rampant crime. But visitors were surprised at the well-organised tournament, they praised our transport system, talked about our friendly people and saw that our security forces were out in full force.
Four of the venues were ready well in time for the Confederations Cup in 2009. By November last year, five of the new stadia were almost complete. Our football pitches were praised and declared to be of very high standard by turf experts from Britain.
Almost perfect
FIFA's Jerome Valcke said South Africa organised an "almost perfect" World Cup and one of the best the world has seen. We can hold our heads high, we have reason to be proud.
- Mbulelo Baloyi
Almost six years ago, in May 2004, together with the rest of the continent, South Africa started an exciting journey. It ended joyfully with the success of the best ever 2010 FIFA World Cup. From the day the announcement was made that South Africa would host the tournament, doomsayers started doubting our ability to pull it off. But we showed the world what Africa could do.