PLEASE NOTE:
The games on this page are not competitions. They are only for fun, so don't send your answers to Vuk'uzenzele.
In South Africa, Arbor Week is celebrated from 1 to 7 September every year. This is a time when people are encouraged to plant trees, especially indigenous trees, and to learn about the importance of trees.
During Arbor week, schools, businesses, organisations and communities are encouraged to participate in community "greening" projects to improve the health and beauty of the local environment and help build a "greener" future for South Africa.
Why are trees important?
Trees give food, shelter and shade to people and animals. Trees also give wood for furniture and building. In addition, they give beauty, help to prevent loss of soil and filter pollution from the air.
What are 'indigenous' trees?
'Indigenous' trees grow naturally in a country. 'Exotic' trees are imported into a country from another country.
What does 'arbor' mean?
The word "arbor" (also spelled arbour) means tree or "a shady place in a garden made with trees".
DID YOU KNOW?
The first Arbor Day was celebrated in the United States of America in 1872. In South Africa, Arbor Day was first celebrated in 1983. It was later extended from a day to a whole week.
Unscramble the Words
Print the image below to complete this game...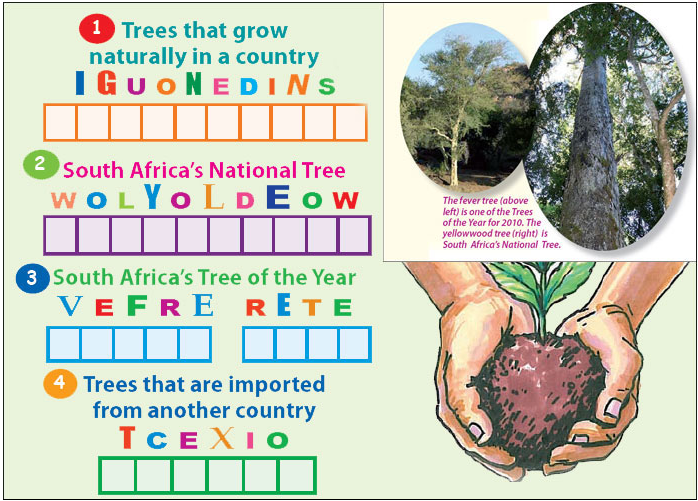 Fill in the Missing Words
Complete the sentences by filling in the missing words.
Print the image below to complete this game...