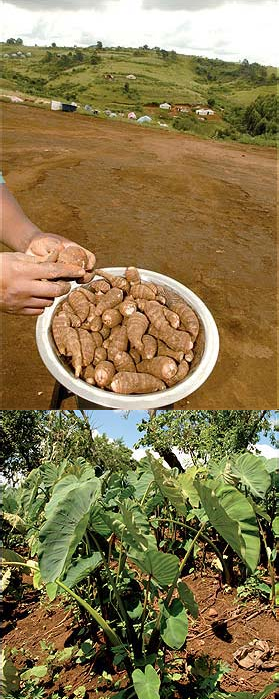 While people in many rural areas complain about unemployment and poverty, the community of Ogagweni is beating hunger hands down.
Ogagweni is a rural area about 70 kilometres south of Durban in KwaZulu-Natal.
Here, community members, especially women who are breadwinners, are making a living through farming with a traditional
root vegetable called amadumbe.
Support Their Families
Ogagweni is a beautiful place with lots of green plants. Rondavel
houses, mostly painted blue with red zinc roofs, can be seen spread across the valley. Rows and rows of amadumbe planted by almost every household, add to the beauty of the place.
Through amadumbe, many people are now able to support their families and educate their children. They can also afford to buy cars and build houses in the village.
A few years ago, people in Ogagweni used to grow amadumbe only to feed their families. They sometimes also sold to the community.
Selling to Big Shops
Those with a lot of land used to make about R500 a month. But now most of the villagers make much more than that by selling their products to large shops like Woolworths, one of the biggest stores that sell food grown without fertilisers.
It all started with a young professor who returned from his studies in the United States of America in 1999. He decided to dedicate his life to developing rural communities farming with indigenous or home-grown traditional vegetables.
Professor Thembinkosi Modi (39) studied for a Doctorate in Agriculture specialising in seed science.
Research
Modi is very excited when he talks about agriculture and the development of rural people farming with indigenous vegetables. He said he learnt that in America, agricultural science students not only learn in class. They also spend a lot of time on the farms doing research and giving advice to farmers about their crops.
"I thought I could do the same at home and fight poverty, " Modi said. "When I came back, I started looking for money to start a project working with farmers in rural areas who were farming with home-grown crops."
The Kwazulu-Natal Department of Agriculture gave Modi R28 000 to do research on indigenous crops and how people were using them. He said he found that people in Ogagweni were planting amadumbe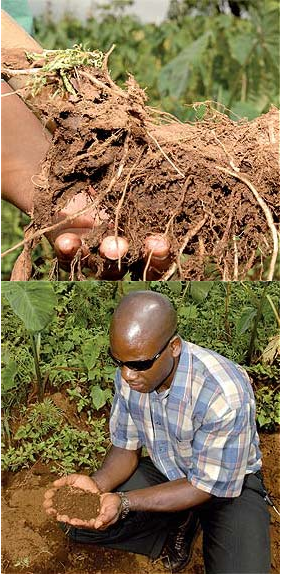 in their back yards for their own use and to sell some to others.
"I realised they also had some land that could be used to make money, so I told them to combine their land to produce more amadumbes," Modi said.
Farms Organisation
The result was that the Ezemvelo Farms Organisation was started in December 2000.
A total of 28 people were registered and certified as organic producers. In 2001, they were supplying Pick 'n Pay with amadumbe.
In 2003, the KwaZulu-Natal Department of Economic Development also helped them with fencing material for their fields. During the same year they started supplying Woolworths with amadumbe.
Improving Lives
To date, the organisation has over 200 members, most of them women, who farm only with amadumbe.
In 2006, during the harvest period of March to August, they made about R250 000. The target for this year is R500 000.
One of the farmers, Tholakele Mkhize, said it has really improvedher life. "I now make about R3 500 a month. My children
eat well and go to school," she said with a smile. Another farmer, Tholakele Nxele, takes care of her seven children and 24 grandchildren.
Woolworths has started a competition for Ezemvelo farmers and Nxele has won it for the past two years. She is building a modern five-roomed house with wooden doors and window frames.
"I have already spent about R28 000 on this house," she said. "I used to make only about R500 a month by selling to hawkers. Today I easily make over R4 000 a month."
While Modi and his students do their agricultural science research in Ogagweni, they also help mentor the farmers. He said he was now looking at starting similar organisations countrywide.
- Ndivhuwo Khangale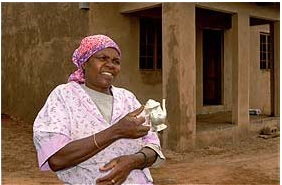 For more information on organic farming, contact Professor Thembinkosi Modi: (033) 260 5854.