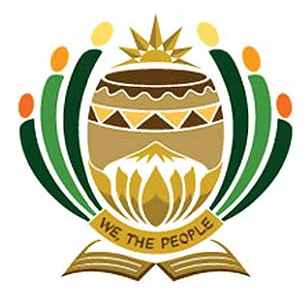 South Africa's Parliament has a new emblem. It replaces the old one designed in 1961.
The new emblem is made up of different parts, each one with its own special meaning. The main part is a protea and a drum with the sun at the top. Green leaves surrround them. At the bottom of the emblem the words "We, the people" appear above an open book.
The sun at the top means healing the divisions of the past and improving the lives of all South Africans

The drum calls parliament together

The protea leaves are the people and their freely elected representatives acting as a voice of the people.

The book is a symbol of the constitution. The words above it, "We, the people", are the opening words of the constitution. The constitution ensures everyone's rights and freedom..