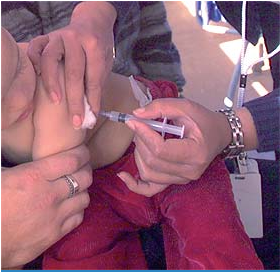 Because all children are at risk of getting infectious childhood diseases, protection from these diseases is one of the greatest benefits that government can ensure for every child.
Polio and Measles
The Department of Health has started a major polio and measles plan. The plan aims to decrease the number of children who are at risk of getting polio and measles. It will involve all children in the country under the age of five.
The plan also aims to ensure that South Africa does not experience a similar outbreak of polio to what Namibia experienced last year.
All Children
Cases of measles were reported in Gauteng, KwaZulu Natal, the Western Cape and the Eastern Cape in 2004 and 2005.
Early signs of measles include red rash, high fever, runny nose, red watery eyes and coughing.
All children under the age of five are required to be inoculated against polio, whilst all children between 9 months and 5 years should also be inoculated against measles.
The first round of the polio and measles plan takes place from 6-12 May this year and the second part from 10-16 June.
The Department of Health has set aside these days to raise awareness about the importance of immunisation to prevent all childhood diseases.
Free of Charge
Vaccines to prevent these diseases are available free of charge at any public health clinics.
Vaccination will help prevent polio, tuberculosis, diphtheria, pertussis, tetanus, haemophilus influenza type B, hepatitis B and measles.
It is recommended that children under the age of five be immunised against the most common childhood diseases at birth, six weeks, ten weeks, 14 weeks, nine months, 18 months and five years of age.
- BuaNews
Childhood diseases like measles and polio can lead to death, especially in small children, but it can be prevented. Parents are urged to ensure their children receive their routine immunisations on time