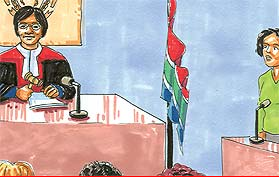 Our high crime rate is receiving serious attention from government. As part of government's programme of action dealing with crime, the number of police officers will be increased. The number of magistrates and courts will also be increased because there is a backlog in the handling of court cases.
President Thabo Mbeki has highlighted the need for the courts to deal with cases and sentencing of prisoners quickly. Criminals must know that they will be punished.
Backlog Project
The Department of Justice and Constitutional Development started the National Backlog Project to improve service delivery in courts.
The Department, the National Prosecuting Authority, the South African Police Services and the Forensic Sciences Laboratory will work together to reduce case backlogs in a number of courts.
Additional resources will also be used. This includes appointing more prosecutors, appointing retired magistrates as acting magistrates and appointing lawyers working for the Legal Aid Board on a contract basis to help out.
Additional Courts
Five regional courts across the country, which have the highest number of case backlogs, have been identified.
Additional courts will be started to deal with the high number of outstanding cases.
This includes three additional courts to be added to both the Pietermaritzburg and Port Elizabeth regional courts.
Two additional courts will be built in Pretoria and two in the Western Cape.
Speed Up
The National Backlog Project has also established provincial development committees and case-flow management committees to look into and assist with backlogs.
Their task is to speed up the handing out of warrants of arrest and to increase the number of bail courts. They must also see that probation reports and reports like those on blood samples are received in time.
Technology
The Department of Justice and Constitutional Development is using technology to help them with their planning.
The e-Scheduler is already being used in 332 courts. It is a system that uses computers to make court procedures more efficient.
Re Aga Boswa
To help Chief Magistrates and Judges to concentrate on court matters, the Re Aga Boswa (building anew) project will take administrative duties away from them.
Court managers will help the magistrates by doing their paperwork and taking care of court budgets.
- Muzi Mkhwanazi
For more information, call 1020