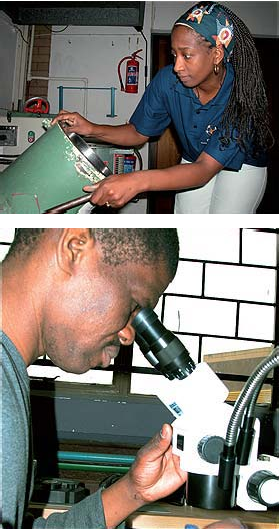 Government is moving fast to address one of the main problems facing South Africa today - the shortage of scarce skills.
Scarce skills include those of engineers, technicians and scientists, as well as artisans like electricians, builders, plumbers, construction workers and carpenters.  These are trained people who have the necessary experience and knowledge to help the country's economy develop and grow at a faster rate.
Jipsa
Deputy President Phumzile Mlambo-Ngcuka led the launch of the Joint Initiative on Priority Skills Acquisition (Jipsa). This programme aims to develop the skills that are most needed to grow the economy.
It is part of government's Accelerated and Shared Growth Initiative (AsgiSA). AsgiSA is a plan to help the economy grow faster in a way that benefits all. This should halve unemployment and poverty by 2014.
Mlambo-Ngcuka said it has been found that the country needs at least 12 500 artisans a year for the next four years. We are currently producing only about 5 000 artisans a year.
Artisans
A total of 50 000 artisans must be trained by the time the World Cup takes place in 2010. The number of engineers must be increased to 2 400 a year.
To speed up this process, we have a National Skills Development Strategy 2005-2010. This is a plan to identify areas where there is a need for skills development and training in different fields.
 
Training
Bodies that are responsible for training and skills development, like the Sector Education and Training Authorities (Setas) and the National Skills Fund, must identify careers and skills that will help grow the economy.
If there is a shortage of these skills, the Setas and the National Skills Fund will make money available for training.
Opportunities
There are training opportunities for people in three different groupings.
The first group includes people who are employed, but lack skills. Employers are encouraged to help them get training so that they can work more productively.  This includes training courses, learnerships and Adult Basic Education and Training (ABET) for those who cannot write and read.
For the poorest of the poor, training opportunities are available through community-based organisations or programmes like the Expanded Public Works Programme (EPWP). Through these programmes they gain skills while working on projects.
The third group are unemployed people who need training in scarce skills, people who need work experience to make them employable and young people who want to start their own businesses.
- Ndivhuwo Khangale
For more information on training call 1020