SUCCESS IN THE TOURISM BUSINESS
A BACKPACKER LODGE COMES TO LIFE AND MANY BENEFIT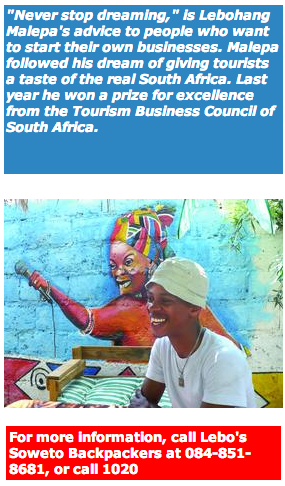 You must chase your dreams no matter what, says Lebohang Malepa, owner of the well-known Lebo's Soweto Backpackers. "Don't give up even if it seems impossible and you don't know how or where to begin," he said.
Selling crafts
"I knew from an early age that I didn't want to say 'good morning sir' to anyone," Malepa said. "I just hated the thought of waking up in the morning and having to go to work. But I knew that I had to do something to support myself." 
Before he started his business, Malepa was selling crafts to tourists at the famous Hector Peterson Memorial in Soweto. "Most of the tourists were not buying a lot of goods, so I started thinking about ways to grow my business," he said. 
While selling at the memorial he often met people who were transporting tourists. Most of them told him that tourists wanted to experience the real South Africa and were interested in spending time in the townships. 
Malepa then got the idea of opening a bed-and-breakfast lodge in Soweto and offering visitors guided tours on bicycles. This would be a first in a black community in South Africa.
Creates jobs
He was lucky to have the use of his grandparents' large four-room house, which he could change into a lodge. Today, Lebo's Soweto Backpackers gets visitors from all over the world. 
Malepa employs ten part-time guides who ride with the visitors on their bicycles. He also employs three full-time people to help him run the business, and he contracts a neighbour to prepare food for his guests. 
In this way, the business not only gives tourists a truly South African experience, but also boosts tourism in Soweto and creates jobs.
Goals
Malepa's goal is to grow his business. He is in the process of applying for funds from government programmes like the Umsobomvu Youth Fund. While waiting for money from government, he is working towards his goals using the profit he is able to make. 
His advice to people who want to start their own businesses is simple: 
"You can dream, but you must follow up on your dreams with actions."
- Muzi Mkhwanazi
---
If possible, use daylight in the office instead of switching on lights