KEEPING IT BRIEF
CALL FOR ENTRIES- POWA WOMEN'S WRITING COMPETITION 2008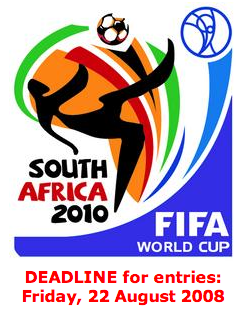 Entries are now open for the People Opposing Women Abuse's (POWA) Women's Writing Competition. The theme for 2008 is: Journeys to Recovery. 
Entries can be submitted in the following categories:
 poetry - no longer than 60 lines
short stories - no longer than 2 500 words
personal essays - no longer than 2 000 words
Many women have been victims of violence in different forms. Survivors of such violence are often forced to flee from where the violence took place to find places of safety. POWA is calling for entries in the three categories describing the survivor's journey of transformation in the flight from violence into healing. The deadline is Friday, 22 August 2008.
For more information and competition entry forms, contact:
Nehwoh Belinda, Tel: 011 642 4345/6; e-mail: Nehwoh@powa.co.za 
- BuaNews 
Eastern Cape 


The provincial Department of Transport has set aside R3,9 million to start a provincial crime prevention strategy. The funds will be used to start street community programmes that will help make areas safer. The programme will start in Port Elizabeth, and will be rolled out to other parts of the province where village committees will be set up. This will help the department form a partnership between government and civil society to mobilise communities in crime prevention strategies.

- BuaNews
Mpumalanga


As part of government's Imbizo Week in April, farming projects in Bushbuckridge and Marapyane got 11 tractors and 32 power hoes to support new farmers. The department is to provide free diesel for the tractors and hoes until the farming projects can afford to buy their own. About R30 million was spent on equipment, which was bought from China. Some of it was also distributed in the Nkomazi area south of Malelane last year


- BuaNews
KwaZulu-Natal


The communities of Tulwane in northern KwaZulu-Natal will no longer have to travel long distances to access government services. This is thanks to a R10 million "one-stop shop" to be built by the Department of Social Development to serve the community. There will be offices for Social Development, Home Affairs, a multi-purpose centre, a community centre, a luncheon club for elderly people and pre-school for local children. Community members will also get job opportunities.

- BuaNews
Northern-Cape


The Northern Cape Premier recently met with the Governor of the Kasai Oriental Province of the Democratic Republic of Congo (DRC) to discuss a partnership between the two provinces. It is aimed at strengthening South Africa's commitment to help the people of the DRC with their post-war problems. It will also focus on reconstruction and development programmes in the province. 


- BuaNews

---
Remember to switch off all lights during the day or when leaving a room