CARING FOR THE ENVIRONMENT
TAKING TREES SERIOUSLY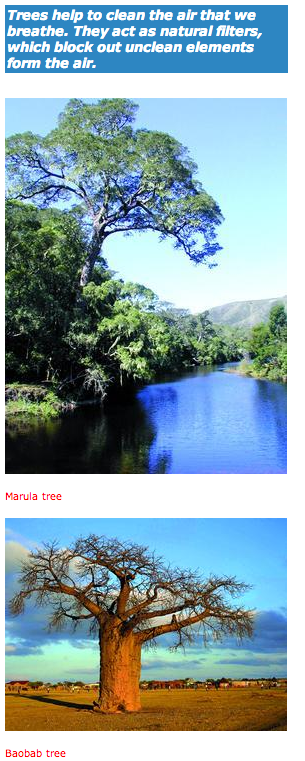 A story in a magazine about how people in Australia were struggling to breathe fresh air because of a lack of trees changed Abel Nkuna's life.
Nkuna of Dan Village in Tzaneen, Limpopo, knew nothing about trees and their importance in our everyday lives. He spent his working life as a buyer and seller at a building material store until he lost his job in 1998.
Food and medicine
It was only after reading the story about Australia's lack of trees, that Nkuna started taking trees seriously. He realised that the same thing could happen in South Africa if we did not look after our trees, especially indigenous ones. He saw that trees not only make our landscape beautiful, but also give us food, medicine and shelter.
Many South Africans are not aware of the importance of protecting trees, especially in the previously disadvantaged communities, Nkuna said.
President Thabo Mbeki talked about this at an Arbor Week function last year. He said a visitor to South Africa could easily tell which areas were the former "whites only" suburbs because there were much more trees.
Empty forests
Nkuna is very worried about the cutting down of trees for fire wood and other reasons. He said most forests were getting empty and that this spoiled the environment. It also means birds and wild animals disappear because there is not enough trees and forests for them to live in and get food from. "We need to protect whatever trees are still left and plant even more," Nkuna said. "It is very sad that a province like Limpopo, for example, is known for baobab trees, but how many do you see when visiting here?" he asked.
Seeds
In 2003, Nkuna decided to start planting indigenous trees from seeds. The Dendrological Society of South Africa gave him information about indigenous trees. They also taught him about the importance of planting and protecting them. He collected seeds like acacia, fig, marula, baobab, natal mahogany, and podmahogany.
Nkuna then went to the Land Care Project of the Department of Agriculture and to the Department of Water Affairs and Forestry to talk about his tree project. Both departments were interested and encouraged him to plant even more trees. Since 2004, he has sold about 5 000 indigenous trees to them, as well as to local municipalities.
Jobs
Nkuna now has about 7 500 young trees in his yard which are ready to be sold. Another 13 000 will be ready by September. He is also giving jobs to 10 local women who help him with his nursery. "Indigenous trees are cheap to maintain. I only use ordinary soil mixed with cow dung compost," he said. "The only thing I buy is the plastic bags as each tree has to be planted separately."
Big challenge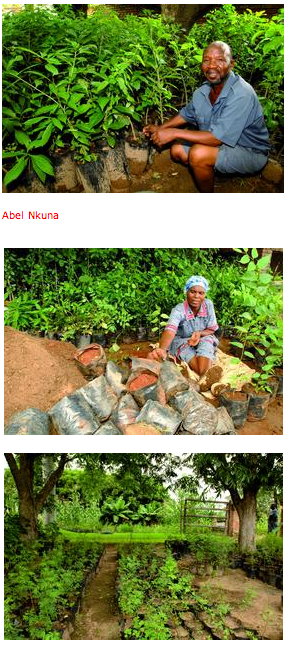 This year, Nkuna faces a big challenge. Water Affairs and Forestry Minister, Lindiwe Hendricks, announced a programme to plant a million trees in schools, townships and roadsides across the country. 
The programme will help to improve South Africa's landscape, and will make our country healthier and even more beautiful, Hendricks said. 
To put the programme into action, the department prepared a planting plan that shows where all the trees will be planted throughout the country. Nkuna said he was very happy about the programme and hoped that other people would also start projects to meet the department's needs.
Meanwhile, Food & Trees for Africa, a company registered with the Department of Welfare, is helping cities all over the country to plant hundreds of trees in townships.
-- Ndivhuwo Khangale