JOIN THE POLICE
BECOME A CRIME BUSTER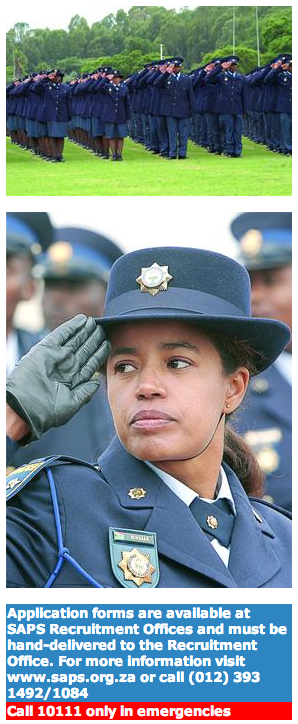 The South African Police Service (SAPS) is increasing its efforts to fight crime. To help them do this, they are looking for keen, energetic and dedicated young people to join their ranks. 
There are 5 613 posts available in all the nine provinces. If you want to join, you must be between 18 and 30 years old. You must have a Grade 12 certificate, a valid Code EB driver's license, and be physically and mentally fit. You must also be able to speak English fluently, as well as one other official language. 
 
To apply
There's nothing more rewarding and fulfilling than being a servant of the people, says the SAPS training section. To start your career with them, you can get application forms from your nearest recruitment office at any police station. 
All applicants will have to undergo a psychological assessment. This will tell the police whether you are the right kind of person to be a police official. It will also tell them if you have previous criminal convictions, you are willing to have your background checked and are prepared to serve anywhere in South Africa.
Basic training
As a new police recruit, you will undergo a Basic Training Learning Programme (BTLP). This programme has the following three phases:
Phase 1: Basic training and tactical policing programme for six months. This is presented at the various basic training institutions in Pretoria, Oudtshoorn, Graaff-Reinet, Bhisho, Mthatha, Chatsworth, Phillipi, Bishop Lavis, Ulundi and All Saints.
Phase 2: Field training as a student constable in uniform. During this time, you will work in the Community Service Centre (CSC) for the first 12 weeks, after which you will work outside the CSC.
Phase 3: In-service training. After students have finished the basic training for six months and field training for another six months respectively, they undergo in-service training for 12 months. When they meet all the requirements, they will be appointed permanently as constables.
ACT now
After finishing all three phases of basic training, the constables must work in the police service for at least four years on salary level four. This includes all the fringe benefits such as medical aid, service allowance, and pension. Join now and become a crime buster. Follow your heart and your conscience and join the offensive against crime. Against Crime Together (ACT). 
ACT Now!
– Selby Bokaba, SAPS
---
Make sure fridge doors are properly sealed and closed to keep the cold air inside