TRADITION AND THE LAW
REGISTER YOUR CUSTOMARY MARRIAGE TO MAKE IT LEGAL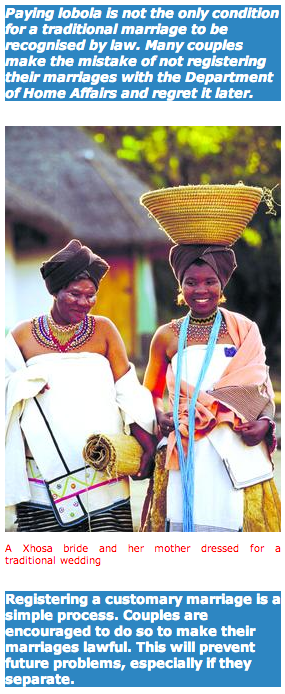 Traditional marriages will only be recognised as lawful if they have been registered. Even if lobola was paid and the marriage was celebrated along with customary rituals and laws, it must be registered with the Department of Home Affairs. 
This is a condition of the African Customary Marriages Act, which came into operation in November 2000. In line with this law, the marriage can be registered at any office of the Department of Home Affairs within a period of three months after the customary wedding took place.
Property
Many couples, especially those who want to separate, experience the negative side of not registering their marriages. This is because when couples separate there are often disagreements about property. Registered customary marriages are viewed by the law as being "in community of property." This means the partners share the property, like furniture or land that they have collected during the marriage. In an unregistered customary marriage, one of the partners can lose his or her right to the property when they separate. In some cases, couples who have divorced have lost everything they had put into the marriage because they failed to register their marriages.
Witnesses
To register a customary marriage, a couple must go to an office of the Department of Home Affairs. At least one witness for each of the partners, or a representative from each of the families must also be present.
Although the Act says that both partners must be 18 or older before they may get married, exceptions can be made for younger couples. Both partners' parents must give their approval and must be present when the marriage is registered. 
At present, the definition of customary marriages as given by law, only includes marriages that take place along with any of the African customary marriages. It does not include customary marriages entered into within other religions, for example Hindu or Muslim. 
- Muzi Mkhwanazi
---
When cooking, use pots with flat bottoms to spread heat evenly