Youth Matter
A coffee maker is brewing a bright future, building an empire, and loving every minute of it.
Sihle Magubane (38) owns up-and-coming coffee company Sihle's Brew, which turns raw coffee beans into cups of heaven.
The gardener turned barista perfectly roasts the beans he sources from Africa's best plantations before beautifully packaging them. His range consists of three ground coffee varieties – Signature, Java Press and Espresso – and a nutty whole bean ready for grinding.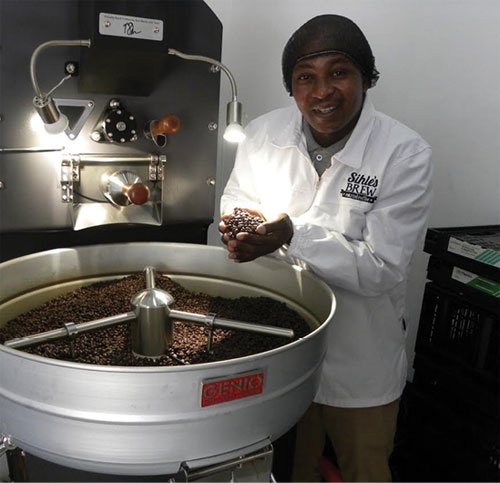 The range is sold at retail stores in five provinces and at his three Johannesburg-based Sihle's Brew coffee shops.
Magubane says he chose to process his own coffee as it allows him control of the entire value chain and helps create more jobs. "I started out in 2012 by purchasing coffee that had already been processed and then repackaging it under my own brand. However, I wanted to create my own product and so I started processing raw coffee beans myself.
"Our coffee is made with the client in mind. This means we make the coffee based on the order we get from client, who is then guaranteed the freshest coffee on the market," he says.
Magubane's company owns its own processing and packaging machines, thanks to R421 000 in funding from the Small Enterprise Development Agency (Seda).
As an entrepreneur, Magubane hopes to play his part in helping South Africa recover from the economic impacts of COVID-19 by expanding his company's footprint and creating more job opportunities. He recently struck a deal to supply coffee to one of the country's top retailers, which will add to his 18-member staff complement.
"The deal will mean that we grow our production scale and hire more people. The more our productivity grows, the more we will be able to promote the people we already have in the company, whilst also recruiting more people," he says.
Sihle's Brew was not spared the impacts of COVID-19. The company had to shut its doors for months during the lockdown but was fortunately able to save jobs by making use of the Unemployment Insurance Fund's Temporary Employer-Employee Relief Scheme, which paid the salaries of his employees.
He says the process went smoothly and the company was able to pay its employees from the first month of the lockdown.
Sihle's Brew has been awarded International Organisation for Standardisation and South African Bureau of Standards certificates, which means customers can have confidence in its products and processes.