Two young civil engineers are tackling gender inequality in the engineering sector head-on.
Vanderbijlpark-based Jam Fadge Civil Engineers, owned by Makgotso Motsumi (27) and Thando Sikwatsha (29), primarily hires young women who recently  graduated in construction or civil engineering and students needing hands-on experience.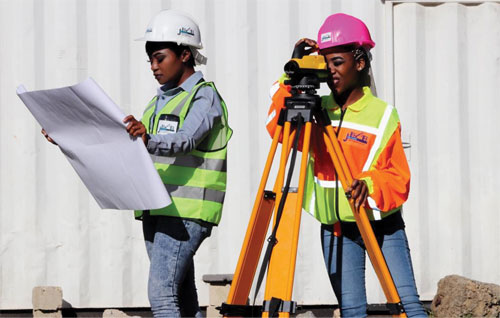 Sikwatsha says this is done deliberately to enable young women to gain experience in what is still largely a male-dominated sector. "We are about giving young women opportunities to succeed."
The company would like to see the sector becoming more innovative and hopes that by empowering young women civil engineers, they can promote new thinking, green building, a diverse approach in the way construction projects are being handled and new technologies.
Six women are currently employed by Jam Fadge, three of whom are students getting on-the-job training. Sikwatsha says: "Students who are studying engineering need experiential training and we give them that. Those who have graduated often don't have enough experience and our aim is to train them and equip them with the best skills for the industry."
As part of its mission to train young engineers, the company has started the Jam Fadge Civil Engineers Career Path Programme. Institutions of higher learning are visited by members of the Jam Fadge team to offer mentorship, advice on choosing the right career path and assist students to choose the right civil engineering field.
"We recognise that the civil engineering industry consists of so many streams and fields, and that each student deserves the opportunity to find their sweet spot," she says, adding that if students find the career path that best suits their abilities, they are more likely to do well at work. This, in turn, will help fill the skills gap with dedicated professionals.
Jam Fadge Civil Engineers offers construction and renovation work, structural engineering design, general works and civil, mechanical and electrical engineering services.
The company works with municipalities, private companies, NGOs and individuals, among others, and has registered to operate in Lesotho and the Democratic Republic of Congo. Its biggest project since launching in 2016 is the Zamdela Municipality sewer project.