The Department of Higher Education and Training's Strategic Policy Framework on Disability for the Post-School Education and Training System (PSET) promotes the creation of an inclusive and enabling environment for people with disabilities. 
The policy framework was published in 2018 and provides the department with a monitoring and evaluation instrument to assess the mainstreaming of disability support in all PSET institutions.
Spokesperson Ishmael Mnisi says the department has the responsibility to ensure that all people, inclusive of people with disabilities, have access to and succeed within the PSET system, which includes technical and vocational education and training (TVET) colleges.
The department provides holistic student-centred support services at all 50 TVET colleges, which helps increase students' chances of success and employability. It does this by assisting students in making programme and subject choices, enabling students' access to financial aid, addressing the accommodation of students with disabilities and providing academic, emotional and social support.
Mnisi adds that the department promotes student health and wellness in TVET colleges, including disability and gender-based violence programmes that are provided through Higher Health Student Support Services units.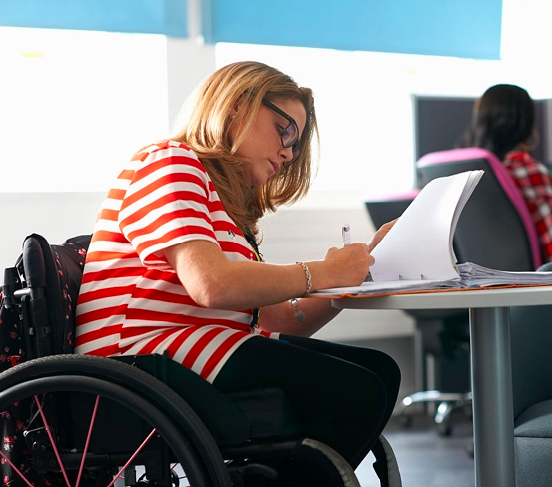 In 2019, the TVET branch within the department embarked on a series of capacity-building workshops to identify challenges in the provision of support services to students with disabilities. The underlying causes were analysed, best practice was shared and mechanisms to resolve these challenges were collectively formulated.
Identified challenges included the lack of guidelines or standard operating procedures, lack of suitable infrastructure, inadequate resources (financial and human) and lack of support from management, lecturers and students.
Mnisi says the department is currently conducting an audit of the state of disability mainstreaming in TVET colleges, which will enable it to address any shortcomings.
Owam Booysen (22) of Bedfordview is one of the students to benefit from the department's support programmes for students who live with disabilities. He has an intellectual disability that requires him to process information faster and to speak out his thought process.
"I attended Tshwane North TVET College and completed the N6 Legal Secretary course in 2019. I could not learn like other students so the college set up a separate space for me so that I could exercise my thought process and speak out loud without disturbing other learners," he says.
Booysen believes the support he received helped him to perform better. He is currently looking for an internship so that he can obtain his diploma, as per the college's requirements.