June is National Blood Donor Month, which means that every adult South African with healthy blood should consider joining this worthy cause.
Did you know that one blood donation can save up to three lives? The South African National Blood Service (SANBS) is always in desperate need of blood donors.
Blood donations can save lives in a number of ways. Blood is given to accident victims, cancer patients, children with anemia and women who lose too much blood when giving birth. Jacob Mohapi is an example of someone whose life was not saved just once, but twice, thanks to blood donations.
Mohapi received blood on two separate occasions after suffering terrible car accidents.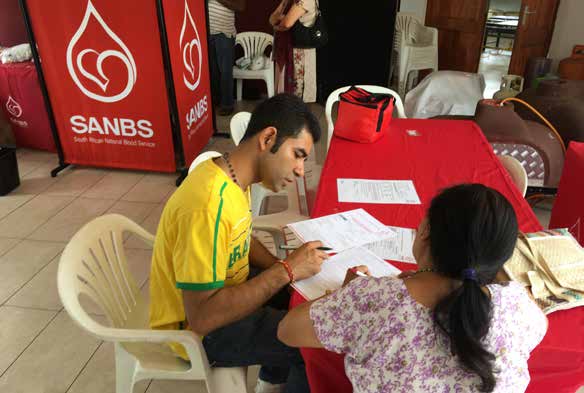 "My first accident was back in the 90s. I sustained spinal injuries which left me in a wheelchair, and I lost my dad, granny and cousin. In the second accident, I had severe internal bleeding," said Mohapi.
Doctors said that there was a good chance that Mohapi wouldn't survive the second accident.
"They had to cut my chest to suction out all the blood that was inside, and blood was needed to replace the blood I had lost," he said.
After he had recovered and discharged from hospital, Mohapi and his son Thabang went to several SANBS blood donation centres to thank donors.
"If it wasn't for blood donors, I would not be alive today",  said Mohapi .
Another blood recipient, Thandeka Monageng, received two units of blood which saved her life when she experienced complications during childbirth.
"The thought of my child growing up without a mother made me realise how grateful I am to have another chance at life". The SANBS normally only has around five days' worth of blood stock available at any given point, which is why there is much urgency in getting more people to donate.
SANBS chief marketing officer Silungile Mlambo appealed to all South Africans to use National Blood Donor Month as an opportunity to become regular blood donors.
"The best gift you can give anyone is the gift of life. We know that South Africans have huge hearts and we call on them to fully embrace the spirit of National Blood Donor Month."
*You can donate blood at your nearest SANBS blood donation centre.