A new TV show created by the National Student Financial Aid Scheme (NSFAS) is searching for presenters to create awareness of the scheme and assist those in need of financial aid.
NSFAS is currently looking for young, vibrant students across South Africa to present the 13-episode show, which will air during the 2020 NSFAS application season later this year.
The show aims to provide young people with information on how they can get financial assistance from the organisation to pay for tertiary education. said NSFAS spokesperson Kagisho Mamabolo.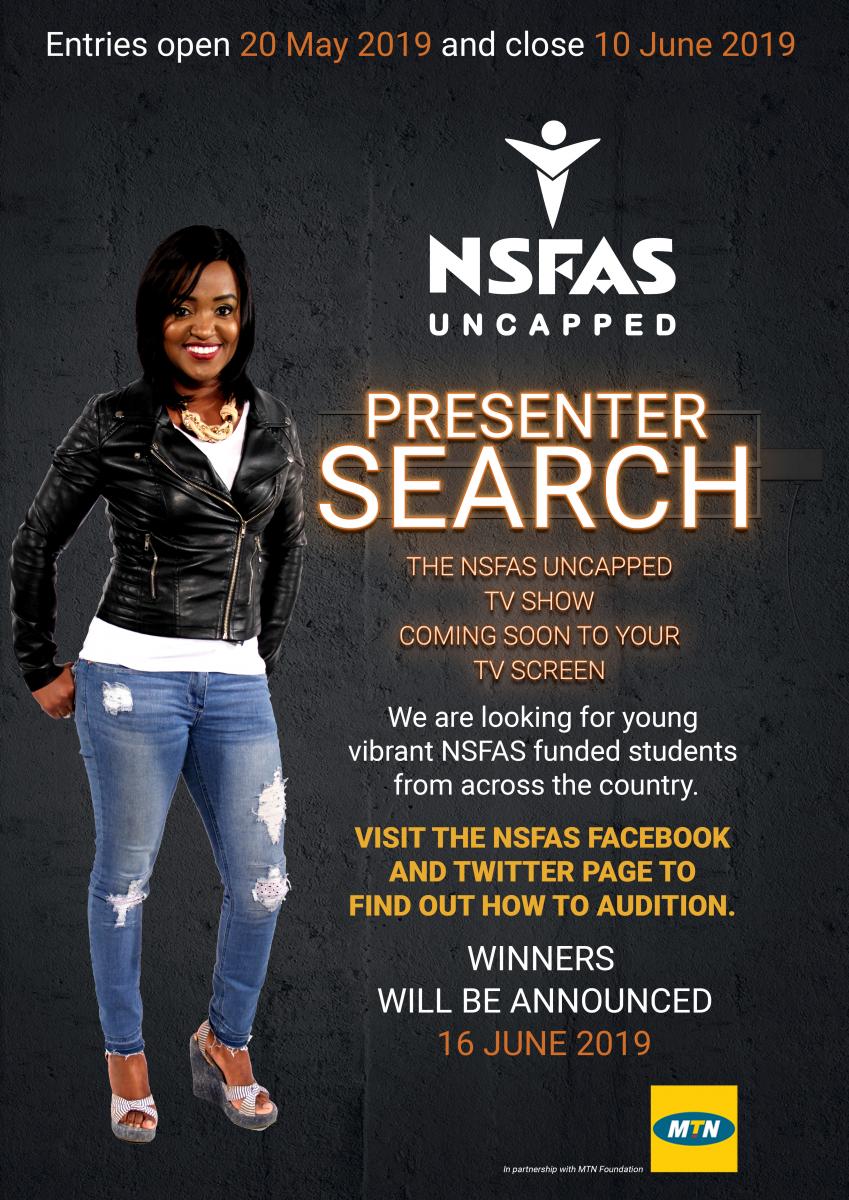 "Although NSFAS receives a high number of applications which exceeds 400 000 on a yearly basis, there remains a significant number of disadvantaged youth that still lack information on how to access NSFAS funding.
"This television show will provide a step-by-step guide on how youth from disadvantaged backgrounds can access funding from NSFAS," NSFAS spokesperson Kagisho Mamabolo.
The show will include informative segments that will:
show students how to apply for NSFAS funding;
assist them with completing application forms;
offer career guidance in line with government's National Development Plan;
showcase all higher learning institutions to help students choose the right institution;
help students access allowances at university and TVET colleges; and
give students clarity on challenges they might encounter.
Aspiring presenters must be current NSFAS beneficiaries.
"We believe that they have real experience of our funding and will be in a better position to relate to our audience."
Mamabolo said the initiative would offer students skills in the form of presenting, as production crew, and media production.
The call for presenters had received overwhelming support from beneficiaries so far.
"We are humbled by the unique stories our beneficiaries are sharing with us," said Mamabolo.
Mamabolo stressed that funds used to produce the NSFAS programmes were administration funding allocated by Treasury on an annual basis, and not on student funding allocation.
"NSFAS did not spend any funds as these were provided for by the partners, who have opted to finance the whole production process of the show."
To enter the presenter search, all you need to do is create your own homemade 30-second audition video explaining how NSFAS has helped you as a student.
Post your video on your Facebook or Twitter page using the hashtag #NSFASPresenterSearch.
The top four entrants who receive the most likes or retweets on their entries during the competition period will be automatic winners. NSFAS will select a further five winners (their favourites) from all valid entries within two days from the closing of the competition.
Nine students will be chosen from the nine provinces (i.e. one from each province) in total, and a list of the selected candidates will be published.
Entries close on 10 June 2019 at midnight (00h00/12AM). All winners will be subjected to NSFAS verification processes and announced on 16 June 2019.
Visit the NSFAS Facebook and Twitter pages for more information.