Written by Allison Cooper
With 196 750 coronavirus cases and 3 199 deaths recorded by 5 July, government is again urging citizens to protect themselves and adhere to lockdown regulations. 
South Africa is seeing a fast rise in its number of coronavirus (COVID-19) cases and government expects infections to surge in July and August.
The word surge entails a sudden and big increase in the number of positive cases, as recently seen in Gauteng, where the number of infections has grown to over 63 400 in a short period of time.
Health Minister Zweli Mkhize explains that various factors will contribute to the surge, including people moving around more; people getting together in groups; and people not wearing face masks and not social distancing.
As a result of the increasing number of cases, President Cyril Ramaphosa has extended the employment of 20 000 South African National Defence Force (SANDF) members from 27 June until 30 September.
Apart from helping to maintain law and order and protect the country's borders, the SANDF will work with the National Department of Health in managing the virus through the provision of field hospitals, medical screening and quarantine facilities. It will also support the Department of Cooperative Governance and Traditional Affairs' efforts to maintain and enhance the living conditions of the population. This will include the supply of water.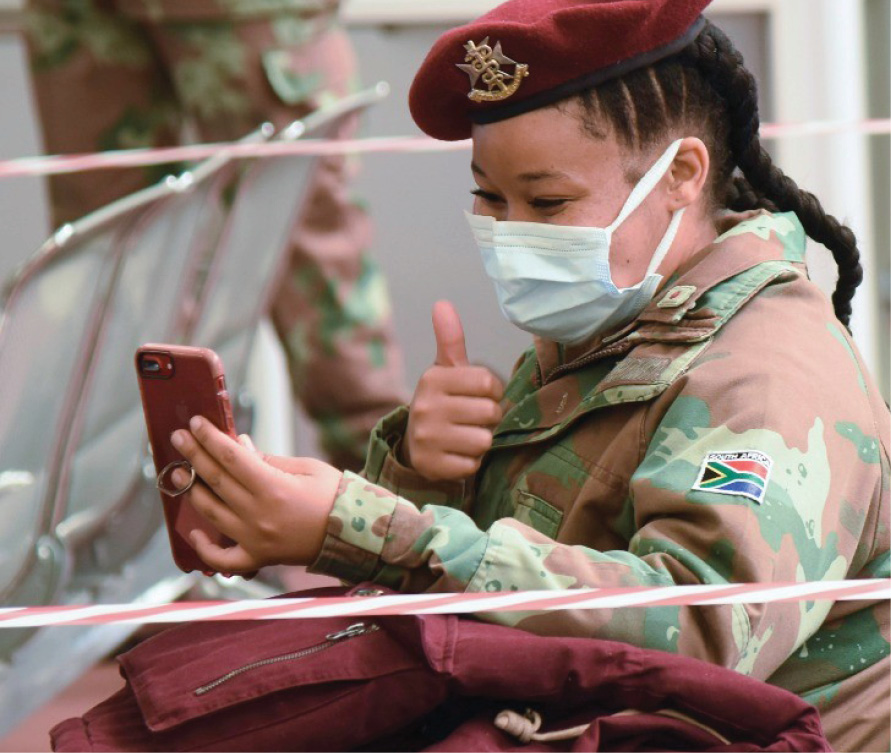 After visiting Mpumalanga on 3 July, President Ramaphosa said he was pleased with the province's efforts to fight the virus. Mpumalanga is one of the least affected provinces. At the time of the President's visit, it had 1 478 cases, with 520 recoveries and nine fatalities.
He warned, however, that while more industrialised provinces with bigger populations had far more cases, the surge in infections would hit all regions. People must not let their guard down, he said.
"We must ensure there is protective behaviour among our people, who must take care of each other and themselves," he stressed, explaining that one of the strongest weapons we have against the coronavirus is to change our behaviour.
People must be accountable for their actions, said the President. If we see someone not wearing mask, we must ask where their mask is, he advised.
We need to learn to live with this virus, which may be with us for up to two years or more, he said, saying that hand washing and sanitising, social distancing, wearing a mask in public and coughing and sneezing into a bent elbow need to become everyday behaviour. "The virus is spread when we don't do all these things."
He praised the Mpumalanga Provincial Government for the interventions they have taken to protect vulnerable people by focusing on the food supply chain to ward off hunger; balancing health with people's livelihoods; community engagements; and mass screenings.
Sibusiso Sithole (27), who lives in Daantjie near Mbombela, says everyone in his community has been screened and that sanitisers and soap have been handed out. "We have been told how to change our behaviour to protect ourselves against infection," he says.
President Ramaphosa reacted positively to the news that coronavirus forums were being formed to facilitate discussions in Mpumalanga's communities about the coronavirus and how people can safeguard themselves. He said he hoped open dialogue would help combat the stigmatisation of those infected. "High levels of intolerance are being showed by some in our nation," he said.
Minister Mkhize says case management is very important to control the rate of infections but says some people remain don't want to go to government quarantine and isolation facilities, even though they do not have the space at home to self-isolate.
This worsens the risk of infections in communities, he warns.
His message remains that when not at work, people should stay at home as much as possible because outbreaks are mainly seen in places where people cluster.
"Overall, we expect that all provinces will start experiencing an increase in the number of COVID-19 cases – even those with low numbers now. We are closely monitoring all districts, whether they are high-transmission or low-transmission areas," the Minister says.
The number of people being admitted to hospital is increasing. By 27 June, the majority of hospitalised patients were admitted in the Western Cape (36 percent), Gauteng (26 percent) and the Eastern Cape (17 percent).
"We have engaged industries to secure what we need to meet our increasing oxygen requirements… The procurement and acquisition of ventilators is on course – we feel confident we will be able to meet demand," says Minister Mkhize.
The Minister says government is extremely concerned that South Africans are letting down their guard at a time when the spread of infection is surging. "We see poor or no social distancing in communities. Masks are being abandoned or not worn properly and there is laxity setting in around frequent hand washing… This will directly influence the rise in numbers.
"We do not have a vaccine. We do not have a cure. Our ability to break the cycle of infection depends on our willingness to remain focused and disciplined," the Minister says.
The elderly and those with co-morbidities – like hypertension, diabetes, cardiac disease, chronic kidney disease, malignancy, HIV and obesity – are the most vulnerable and the Minister appealed to them not to miss their clinic or hospital appointments and to make sure they have enough medication.
"In addition to regular hand washing, social distancing and the correct wearing of masks, early case detection, contact tracing, quarantine and isolation are the key to breaking the cycle of
infection," says Minister Mkhize.    
New ways of running schools
Schools across the country have welcomed more learners back to school.
"The Council of Education Ministers (CEM) noted that provinces may be at different levels of readiness for the return of Grade R learners. Therefore, the CEM agreed that those provinces that are not ready to receive Grade R on 6 July 2020, must provide strategic and realisable plans for ensuring the reincorporation of Grade R learners to schools within, but not later than the end of July 2020," Minister of Basic Education, Angie Motshekga, said.
The Minister was addressing a media briefing following a CEM meeting held recently.  
"What is critically important is that all Grade R and pre-Grade R learners, who have already returned to school, must remain in school. Schools that meet the health, safety and social distancing protocols can reopen for their Grade R and pre-Grade R learners," Motshekga said.
The Department of Basic Education will continue to work with the national associations responsible for learners with special needs to streamline the return of these learners to school.
"A further agreement by CEM is that all Grades that are part of the second cohort should return to school in an orderly, staggered fashion within July 2020," the Minister said.
She said a number of overall patterns continue to emerge from the monitoring and evaluation process carried out by the department. 
"Across most thematic areas in the tool, there were relatively high levels of readiness on average, with the lower levels recorded for psychosocial support, school nutrition, and personnel provisioning, as well as the highest levels of readiness recorded for facilities, water and sanitation, and compliance with COVID-19 protocols," the Minister said.
The Director-General for the Department of Basic Education will continue to have one-on-one meetings with the Heads of the Provincial Education Departments to ensure that there is continuous sharing of experiences and working together.  
"We unfortunately lost the lives of 11 teachers and four non-teaching staff in the Eastern Cape to the virus; as well as three learners, who are reported to have succumbed to COVID-19. 
"The reports show that some of these teachers and learners could not have the opportunity of reporting back to school on school reopening. We convey our deepest condolences to the affected families," the Minister said. 
Differentiated timetables and trimming of the curriculum
The department has noted that many schools may have spacing challenges when more grades return to school.
"Almost all schools are going to have to adopt innovative approaches with respect to timetabling and classroom management, in order to ensure that all children can return to school, while at the same time, maintaining the necessary social distancing measures.
"Options such as rotating different grades coming to school on particular days of the week, and other innovative approaches based on the different contexts, will need to be considered," the Minister said.
As a result of the loss of schools days this year, revised Annual Teaching Plans (ATPs) have been developed and adapted by provinces, and have been communicated to schools and teachers. 
"In some cases, innovative approaches are being used, like training teachers using Microsoft Teams and other virtual approaches. It is of critical importance that young people are kept constructively occupied, engaged and connected through schooling," the Minister said. - SAnews.gov.za