In this, the 30th anniversary year of Nelson Mandela's release from prison, South Africans must work harder than ever before to fulfil the dreams envisioned by the father of our nation. 
As our economy struggles under the weight of the COVID-19 pandemic, there is a great responsibility to live up to the expectations of the public this Mandela Month. 
This year, Mandela Month is being celebrated under unprecedented circumstances. Millions of South Africans have been impacted by the COVID-19 outbreak, which has magnified the challenges of poverty, inequality and unemployment. 
The Nelson Mandela Foundation (NMF) has played a major role in driving social upliftment efforts in South Africa since it was established in 1999.. 
As a crucial implementing partner of Mandela Month initiatives, the foundation has focused strongly on the biggest issues facing South Africans during the COVID-19 pandemic and is intensifying its work during a time when it is needed the most.
Food security, education and sanitation 
This year, the foundation is building on the strategy of last year, which focuses on the five pillars of education, food and nutrition, shelter, sanitation and active citizenship.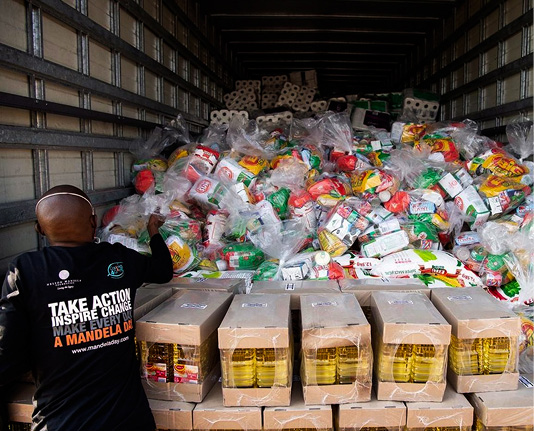 Yase Godlo, foundation Director of Mandela Day and Special Projects, says that since the COVID-19 outbreak struck, there has been an intensified effort on supporting poverty-stricken families with food parcels. 
"Through the Each1Feed1 campaign, hundreds of vulnerable families in rural communities around the country have been provided with food parcels that can feed a family for five months. The campaign is being supported by government departments and foundations such as the Imbumba Foundation and the Kolisi Foundation, among others," says Godlo. 
Beyond distributing food parcels, the foundation is working with its partners to come up with new initiatives to improve food security over the long-term.
"We are engaging our partners on ways to develop sustainable food production solutions, and also to create a voucher system for families to be able to access food." 
NMF CEO Sello Hatang says that South Africa's food security can be solved through collaborative actions between all sectors of society. 
"South Africa's hunger problem is now better understood, and can be solved through flexible and collaborative action from government, non-governmental organisations, faith-based organisations, the private sector, economists and communities. The necessary expertise and knowledge are available in South Africa, as are trusted conveners, organisers and problem-solving methodologies."
Education has been a strong focal point for the foundation in 2020. Through the Nelson Mandela School Library Project, in partnership with engineering firm Hytec, seven libraries have been built in schools in Limpopo, Mpumalanga and Gauteng. 
Meanwhile, the foundation has also been active in ensuring proper protection of children and teachers during the COVID-19 pandemic, by donating personal protective equipment to schools. 
Sanitation is also particularly important during this time, as good hygiene practices are critical to preventing the spread of COVID-19. 
"So these are the three areas of focus that we would like everyone to participate in this Mandela Month – food security, education and sanitation," says Godlo.
Adapting to COVID-19 challenges
The NMF is well aware that the challenges posed by COVID-19, which will have an impact on the way that Mandela Day will be celebrated this year. 
"For example, we acknowledged that people cannot come together in large groups as they did in previous years to participate in activations," says Godlo.
The Mandela Day website has now become a crucial platform which will advise members of the public, corporates and NGOs on the types of activities they can get involved in on Mandela Day. 
Godlo was privileged enough to interact with Mandela on several occasions. He believes Madiba would call on all South Africans to rise up to the challenges posed by the current crisis. 
"Mandela once said that 'It is in our hands' to make true difference, and to understand that together, we are the solution to the challenges that we face. It is in the hands of government, community members, corporates and civil society to make a difference."   
DID YOU KNOW?
Nelson Mandela International Day was launched in recognition of Nelson Mandela's birthday on 18 July 2009 by the UN General Assembly.
It was inspired by a call Nelson Mandela made a year earlier, for the next generation to take on the burden of leadership in addressing the world's social injustices when he said that "it is in your hands now".
Source: Nelson Mandela Foundation
For more information on how you can get involved in Mandela Day initiatives go to: www.mandeladay.com