Written by Kgaogelo Letsebe
Bushbuckridge Community Radio in Mpumalanga has given Emelita Nyalungu (33) a chance at a better life.
Nyalungu, who is a news reader and current affairs presenter, started at the station as an intern and gradually worked her way up to her current position.
"I was informed by a security guard who used to work at the gate about the audition at the station. I passed the audition. Even though I did not know radio, I had a golden voice and the drive to help me stand out among others," she said.
Nyalungu was raised by a single mother who survived by selling fruit and vegetables. Finding employment at the station has allowed her to further her studies and she holds a Diploma in Banking management from Central College.
"Now I'm busy studying Public Relations Management at Bushbuckridge College."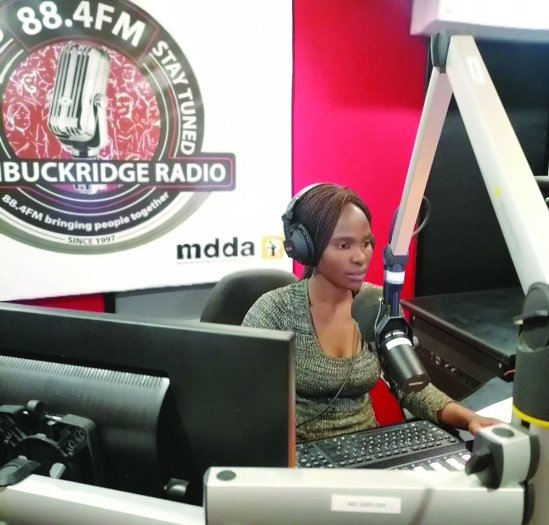 Station manager Caroline Kintu says her journey was similar to Nyalungu's. She started working at the station in 1996 as a presenter before becoming an admin programme manager and was recently appointed to her current position.
"It is still important for women to take part in this sector because they represent other women in the media industry. Women need to support each other and fight for economic freedom and inequality. As women, we must lead, educate and resolve the challenges we face. I believe in the phrase which says when you strike a woman, you strike a rock."
The station was recently unveiled as a state-of-the-art studio funded by the Media Development and Diversity Agency (MDDA). Deputy Minister in The Presidency, Thembi Siweya encouraged board members and the community of Bushbuckridge to take care of the equipment, as it takes 10 years for the MDDA to provide funds for new equipment.
We want this community radio to continue to play a big role in social cohesion and service delivery," said the Deputy Minister.
The new studios allow Bushbuckridge Community Radio to audio stream, which will elevate the quality of broadcasting, opening more areas to the content about community activities and pride in local cultures.
Kintu said the station had so far groomed 18 staff members who have since moved to different radio stations, including Ligwalagwala, Thobela FM, Capricorn and Mungana Lonene.
For more information about the MDDA, visit www.mdda.org.za