After a two-year mechanic contract ended, Tiyani Maluleke from Soweto dusted himself off and is now on the road to building a food-on-wheels empire.
The food enthusiast says he started the business after losing a car-servicing contract along with another failed business venture in manufacturing.
After four months with no income, he was dejected and ready to pack his bags and relocate to the North West when his friends convinced him otherwise.
The initial plan was to move to the North West to open a food joint.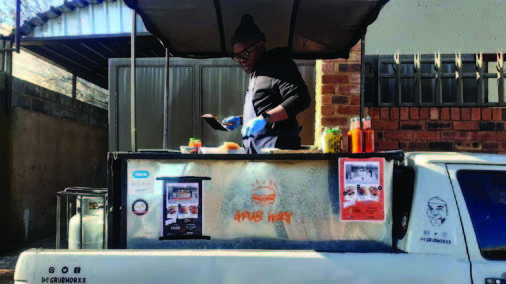 "I had a challenge of opening a joint that side because I did not have enough money.  A friend of mine told me to just start, and lended me a deep fryer..."
This saw the birth of Grub Worx.
The 27-year-old Maluleke says: "I started with nothing ... I decided to build myself a push-mobile cart. I went around the yard, cut up some metal and started constructing it."
During the construction phase he realised that the cart would be too heavy. That's when his mechanical skills came to good use. "At that time I had a really old VW bakkie shell. I dipped into my credit card to turn the bakkie into a grub truck."
He says his ultimate goal is to expand the business to a fleet. "I want to see myself owning a lot more (trucks) and doing a whole lot more bookings. I want to be an exclusive mobile burger joint. I serve gourmet food, and not your ordinary street food," he says.
His passion for good food fuelled his entrepreneurial spirit to start a mobile eatery business.
"I love good food. I just love burgers but I don't think we are consuming them the right way. I use fresh meat and fresh vegetables with a lifespan of two to three days."
Before venturing into the food business, he manufactured cleaning products, but abandoned the initiative when the market became saturated.