Parents and guardians need to ensure that their children's vaccinations against measles and other preventable diseases are up to date.
The National Institute for Communicable Diseases recently reported confirmed cases of measles in the country.
Sonia Botha, Western Cape coordinator of the Expanded Programme on Immunisation (EPI), has encouraged caregivers to ensure that children are protected against measles and other vaccine-preventable diseases.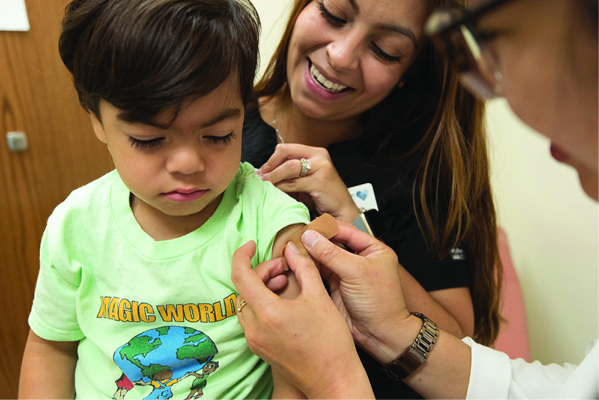 "Measles is preventable through a safe and effective vaccine, accessible for free at public health facilities and at a minimal cost from public-private partners."
Measles signs and symptoms
Measles is a highly contagious, serious disease caused by a virus that is normally passed through direct contact and through the air. The virus infects the respiratory tract and then spreads throughout the body.
The measles virus also weakens the immune system and makes a child more vulnerable to other infectious diseases such as pneumonia and diarrhoea.
Signs and symptoms of the disease include:
A high fever, which begins about 10 to 12 days after exposure to the virus and lasts four to seven days.
A runny nose, a cough, red and watery eyes and small white spots
inside the cheeks can develop in the initial stage.
After several days, a rash erupts, usually on the face and upper neck. After about three days, the rash spreads, eventually reaching the hands and feet. The rash lasts for five to six days, and then fades. On average, the rash occurs 14 days after exposure to the virus.
Serious measles complications are more common in children under the age of five or adults over the age of 30. The most serious complications include blindness, encephalitis (an infection that causes brain swelling), severe diarrhoea and related dehydration, ear infections and severe respiratory infections such as pneumonia. Severe measles is more prevalent among poorly nourished young children, especially those with insufficient vitamin A, or whose immune systems have been weakened by HIV/AIDS or other diseases.
How you can protect your children
Check your child's Road to Health booklet, provided by your local clinic, to ensure that your child has received all their immunisations at the clinic or healthcare provider. In South Africa, children are given measles immunisation at six months and again at 12 months. If you have questions about your child's immunisation schedule, talk to your health practitioner at your local clinic.
This information was supplied by the Western Cape Department of Health